'Hungry Girl' Lisa Lillien's Spicy Crispy Chicken Sandwich
From the Book 'Hungry Girl Chew the Right Thing'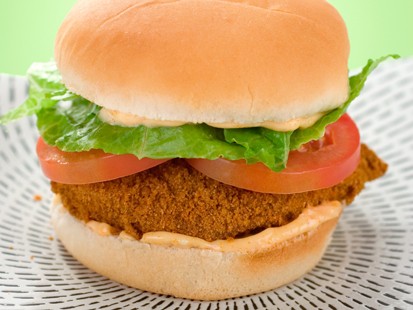 From the kitchen of Lisa Lillien
|
Being a skinny girl doesn't mean you have to be a hungry girl. Get a taste of how delicious low cal can be by trying out her Spicy Crispy Chicken Sandwich recipe below.
Ingredients
3 ounces raw boneless skinless lean chicken breast
1 small hamburger bun (light, if available)
1/3 cup Fiber One bran cereal (original)
1/4 cup fat-free liquid egg substitute
2 tablespoons fat-free mayonnaise
2 slices tomato
1 leaf romaine lettuce
1/4 teaspoon cayenne pepper, divided
Dash salt
Dash black pepper
Dash chili powder
Cooking Directions
Preheat oven to 375 degrees.
Using a blender or food processor, grind Fiber One to a breadcrumb-like consistency. Add half the cayenne pepper and mix well. Place crumbs in one small dish and egg substitute in another.
Sprinkle salt and black pepper evenly on both sides of chicken. Coat chicken on both sides -- first with egg substitute and then with seasoned crumbs.
Place chicken on a baking pan sprayed with nonstick spray, and top with a light mist of spray. Bake in the oven for 10 minutes.
Flip chicken over and add another light mist of spray. Cook for an additional 10 to 12 minutes, until chicken is fully cooked and coating looks crispy.
Meanwhile, combine mayo, remaining cayenne pepper, and chili powder in a small bowl.
Spread half the mayo mixture on each half of the bun. On the bun bottom, place chicken, tomato, and lettuce.
Top with the other half of the bun and enjoy!
From "Hungry Girl Chew the Right Thing" by Lisa Lillien. Copyright © 2009 by the author and reprinted by permission of St. Martin's Griffin.
Crispy Chicken Sandwich, Average
around 560 calories and 25g fat
Spicy Crispy Chicken Sandwich
313 calories and 4.5g fat
Other Recipes That You Might Like