Home
>
GMA
>
Recipes Home
>
The Italian Flag (John's Italian Bloody Mary) Recipe by Rachael Ray
The Italian Flag (John's Italian Bloody Mary) Recipe by Rachael Ray
So Tart and Tasty!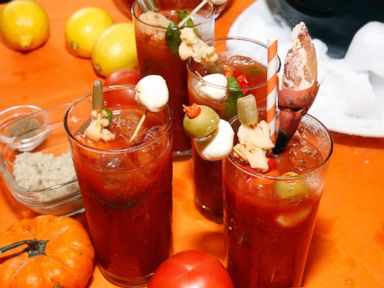 From the kitchen of Rachael Ray
|
Make a pitcher of this Italian Bloody Mary mix ahead of time, and you can add the vodka by the glass when you serve.
Ingredients
3 tablespoons freshly grated horseradish
2 oz aged balsamic vinegar
1 teaspoon celery salt
1 teaspoon black pepper
1 bunch (around 8 leaves) fresh basil, plus some sprigs for garnish
1 bottle (1 to 2 quarts) tomato or spicy vegetable juice
Juice and zest of 1 lemon
1 teaspoon (or to taste) Calabrian chili paste
Bocconcini (small mozzarella balls), for garnish
Pimento stuffed olives, for garnish
Giardiniera, for garnish
Fresh crab claws, for garnish
Cooking Directions
Muddle the horseradish, balsamic vinegar, celery salt and pepper at the bottom of a sealable pitcher or container. Add the basil and muddle some more. Add the remaining ingredients, shake well, and strain into a pitcher to serve.
For each drink, pour 1 1/2 ounces vodka into an ice-filled rocks glass. Top with the Bloody Mary mix and stir gently. Garnish with a fresh basil sprig and a mozzarella ball stuck on a cocktail spear.
This recipe was styled by chef Karen Pickus for "Good Morning America."
Copyright 2015 Ray Marks Co. LLC. All rights reserved.
Other Recipes That You Might Like