Home
>
GMA
>
Recipes Home
>
Mario Batali's 'Not Baked' Lasagne with Green Olives, Tomatoes, and Basil
Mario Batali's 'Not Baked' Lasagne with Green Olives, Tomatoes, and Basil
Make This Easy To Prep Dish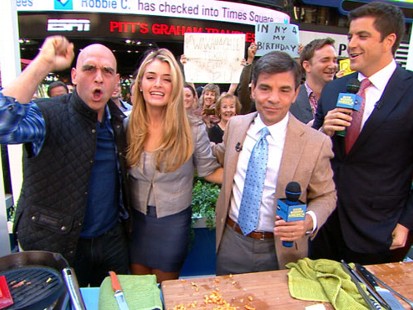 Team Robin faces Team George to cook with mystery ingredients in five minutes.
From the kitchen of Mario Batali
|
This delicious lasagna can be made ahead and is quick to make. Make it at home for your family this week.
Ingredients
¼ cup extra virgin olive oil
4 garlic cloves, thinly sliced
3 pounds fresh very ripe mixed tomatoes, cut into ½ inch dice, with all of the juices
salt
2 tablespoons freshly ground black pepper
1 cup store-bought green olive paste (like Crespi brand)
1 ½ cups pitted green olives such as Nyons
1 ½ pounds lasagna noodles
1 cup fresh basil leaves (from 2 bunches), torn in half
½ cup finely chopped fresh Italian parsley
Cooking Directions
Bring 8 quarts of water to a boil in a large pasta pot.
While the water is heating, heat the oil in a 14 inch sauté pan over medium heat. Add the garlic and cook until it is starting to color. Add the tomatoes and their juices, and cook until the liquid reduces a bit, 4 to 5 minutes. Season the tomatoes with 1 tablespoon salt and the black pepper. Stir in the olive paste, and then the olives. Remove the pan from the heat.
Add 2 tablespoons salt to the boiling water. Drop the lasagna into the water and cook for 1 minute less than the package instructions indicate. Just before the pasta is done, careful ladle ¼ cup of the cooking water into the olive mixture.
Drain the pasta thoroughly in a colander, and add it into the sauce. Add the basil and the parsley over medium heat for about 30 seconds, until the pasta is nicely coated. Pour into a warmed serving bowl, and serve immediately.
This recipe was styled by chef Karen Pickus for Good Morning America.
All recipes are courtesy Molto Batali (Ecco 2011).
Other Recipes That You Might Like