Marco Borges' Metabolism Kick Smoothie
A Powerful Pick-Me-Up!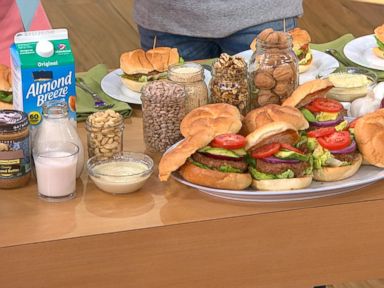 Beyonce's trainer discusses his book highlighting the benefits of a plant-based diet - and he shares some of his famous client's favorite recipes!
From the kitchen of Marco Borges
|
Marco Borges, who trains the superstar Beyonce, appeared on "GMA" today to promote "22-Day Revolution," his new cookbook highlighting the benefits of a vegan diet. This smoothie is packed with vitamins A and C, calcium and protein.
Ingredients
1 frozen banana
1 cup pineapple
1 cup kale
1 ½ cup coconut water
1 scoop 22 Day Plant-Protein Powder
Cooking Directions
Blend all ingredients together until smooth.
Serve and enjoy!
Per Serving: 337 calories, 21 grams protein, 62 grams carbohydrates, 4 grams total fat
Recipe courtesy Marco Borges. Copyright © 2016 by Marco Borges. Used with permission of Penguin Random House.
Recipe styled by Karen Pickus, chef/food stylist, "Good Morning America."
Other Recipes That You Might Like