Home
>
GMA
>
Recipes Home
>
Rocco DiSpirito's Whole Roasted Bacon Wrapped Turkey with Chunky Bacon and Chestnut Gravy Recipe
Rocco DiSpirito's Whole Roasted Bacon Wrapped Turkey with Chunky Bacon and Chestnut Gravy Recipe
A Bacon-Wrapped Turkey to Impress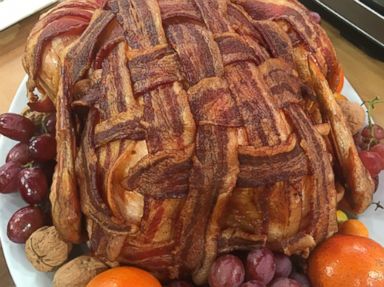 From the kitchen of Rocco DiSpirito
|
Rocco DiSpirito, the celebrity chef and author of "The Pound a Day Diet," created this indulgent bacon-wrapped turkey with all the fixings for "Good Morning America."
Yield: At least 12 portions
Prep time: Approximately 20 minutes
Cook time: Approximately 3.5 hours
Ingredients
4 cloves garlic, minced
2 tablespoons olive oil
2 1/2 pounds turkey bacon
14-15 pound turkey
8 roasted chestnuts
1 quart turkey (or chicken) stock
4 tablespoons arrowroot
1 scoop Rocco's Protein Powder Plus
1 teaspoon parsley, chopped
1 teaspoon, tarragon, chopped
1 teaspoon chervil, chopped
1 teaspoon chives, chopped
Salt and pepper
Cooking Directions
Preheat oven to 450 degrees Fahrenheit.
Whisk the garlic and olive oil together. Rub mixture underneath the turkey skin.
To wrap the turkey in bacon: Use two pounds of bacon to wrap the bird. Start by wrapping the drumsticks, making sure to slightly overlap each piece of bacon. For the breast, weave bacon over bird, and make sure each piece overlaps one another tightly.
Place the turkey in a roasting pan, and move to the oven.
Roast at 450 degrees until the bacon begins to brown and look crisp, approximately 35 minutes. At this point, cover the bird lightly with tin foil, and lower the oven temperature to 375 degrees Fahrenheit. Cook until the internal temperature of the turkey reaches 155 degrees. Cook the turkey approximately 15 minutes per pound of bird. This amounts to about 3 1/2 hours for a 14 pound turkey. Remove from oven and allow to rest for at least 30 minutes before carving. This will allow the internal temperature to rise to 165 degrees Fahrenheit.
For the gravy: Dice the remaining half pound of bacon, and brown in a large sauté pan, approximately 10 minutes. Add the chestnuts and 3 cups of turkey stock and bring to a boil. Whisk the arrowroot starch into the remaining cup of stock, making sure there are no lumps remaining in the slurry. Whisk this liquid into the boiling stock, and keep whisking until it returns to a boil and thickens. Strain off about one cup of liquid from the gravy (It's okay if there are a few pieces of bacon in it. It doesn't have to be perfect.), and place in a blender with the protein powder. Puree for 60 seconds until very smooth and light in color. Slowly add this liquid back to the gravy making sure to whisk the entire time. Finish with the parsley, tarragon, chervil, and chives.
Carve turkey, top with gravy, and serve.
Recipes courtesy chef Rocco DiSpirito for "Good Morning America."
This recipe was styled by chef Karen Pickus for "Good Morning America."
Other Recipes That You Might Like