Home
>
GMA
>
Recipes Home
>
Rocco DiSpirito's Rolled Boneless Turkey Poached in 10 Spice Olive Oil Recipe
Rocco DiSpirito's Rolled Boneless Turkey Poached in 10 Spice Olive Oil Recipe
A Fast Dinner Idea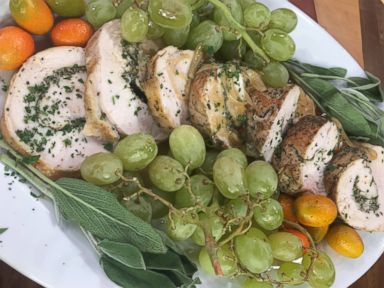 From the kitchen of Rocco DiSpirito
|
Try celebrity chef Rocco DiSpirito's recipe for a rolled boneless turkey breast, poached in 10-spice olive oil, this Thanksgiving.
Prep time: Approximately 30 minutes
Cook time: Approximately 30 minutes
Ingredients
2 tablespoons dried oregano
2 tablespoons dried parsley
4 teaspoons dried basil
4 teaspoons dried tarragon
1/2 teaspoon ground sage
2 teaspoons dried thyme
2 tablespoons onion powder
2 tablespoons garlic powder
1 teaspoons white pepper
2 teaspoons black pepper
1 whole turkey breast, boned and butter flied, about 5 pounds
Olive oil for poaching
One small onion, thinly sliced
1 1/2 ounces Wild Turkey 12 year bourbon
3 cups turkey stock
2 tablespoons arrowroot starch
1 scoop Rocco's Protein Powder Plus
2 tablespoons parsley, chopped
Salt and pepper
Cooking Directions
Mix oregano, parsley, basil, tarragon, sage, thyme, onion and garlic powder and white and black pepper together. Set aside.
Lay the turkey breast skin side down on a cutting board. Season with salt, pepper, and a liberal portion of the herb mixture, and roll tightly so that it looks like a jelly roll. Use butcher's twine to tightly tie it up. Set aside and allow it to come to room temperature while oil heats up.
Pour enough olive oil into a Dutch oven so that it will cover the turkey by at least 2-inches. Using a thermometer to monitor temperature, heat oil to 180 degrees Fahrenheit. Add the remaining spice mix and stir. Add the turkey and poach until internal temperature reaches 165 degrees Fahrenheit, 50-60 minutes.
To make the gravy: Sweat onion in a large sauté pan until soft and translucent. Add the bourbon, and use a stick lighter to ignite. Add 2 cups of the stock, and bring to a boil. Whisk the arrowroot into the remaining stock until no lumps remain. Whisk this into the boiling stock, and stir until gravy returns to a boil. Strain a cup of liquid into a blender, and add the protein powder. It's okay if some onions are mixed into this liquid. Puree on high 60 seconds until smooth. Slowly add this back into the hot gravy, whisking the entire time. Season and finish with the parsley.
Portion the turkey, top with gravy, and serve. Yield: 8-10 servings
Recipes courtesy chef Rocco DiSpirito for "Good Morning America."
This recipe was styled by chef Karen Pickus for "Good Morning America."
Other Recipes That You Might Like