Spot Dessert Bar's Witch's Finger Eclair
Bake These Creepy Digits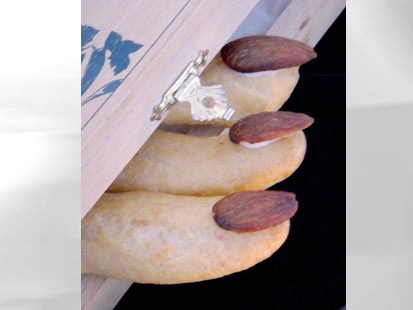 From the kitchen of Spot Dessert Bar
|
These creepy eclairs are perfect for your Halloween party. Decorate them with your kids for a fun treat!
Ingredients
For the choux dough:
½ cup water
1/4 cup butter, small diced
½ tsp salt
1 tsp sugar
½ cup all purpose flour, sifted
2 eggs, lightly beaten
For the pastry cream:
1¾ cup milk
1/3 cup sugar
2 tsp egg yolk
2 tbs all purpose flour
3 tbs cornstarch
1 tsp vanilla extract
1 cup whipped cream
For royal icing:
2 egg whites
1 tbs lemon juice
3 cups icing sugar
red and black food coloring
For decoration:
½ cup white chocolate coating, melted
½ cup blanched almond, halved
Cooking Directions
For the choux dough:
Preheat the oven at 400F. In saucepan, bring water, butter, salt and sugar to boil. Add flour and stir immediately until it detaches from the pan.
Transfer mixture into mixing bowl and gradually stir in egg little by little.
Put mixture into piping bag with 1cm (1/2 inch) round tip, and pipe into 1" round shapes (for eyeballs) and also 3" long lines (for the fingers) on a paper lined baking tray.
Bake at 400F for 10 minutes then decrease the temperature to 340F and continue to bake for 30 minutes. Remove from the oven. Let the pastry completely cool down.
For the pastry cream:
In a saucepan, bring milk to boil. Meanwhile, in the mixing bowl, beat the egg yolk and sugar together with whisk.
When the sugar dissolved, mix in flour. Pour half of the boiling milk into the egg mixture, stir well and pour the egg mixture back through the sieve into the saucepan with remaining milk. Stir constantly with a whisk till the mixture is thick.
Transfer pastry cream into flat tray and wrap the top with cling film. When it is cold, stir in vanilla extract. Then gently fold with the whipped cream.
Transfer the pastry cream into a piping bag with a long and thin nozzle.
Fill the pastry with pastry cream.
For the royal icing:
In stand mixer with whisk attachment, beat egg whites and lemon juice until soft peaks form. Mix in icing sugar until well combined. Divine into 2 parts and stir in food colorings. Put royal icing into a piping bag with very small nozzle (or can make a paper cone with a small cut off tip).
To decorate:
Pipe red royal icing at one end and stick with almond, turn pointed edge out.
Recipe courtesy of "Spot Dessert Bar."
Other Recipes That You Might Like