Tarina's Double Chocolate Drizzled Hazelnut Cookies
Recipe Courtesy Tarina Wimmer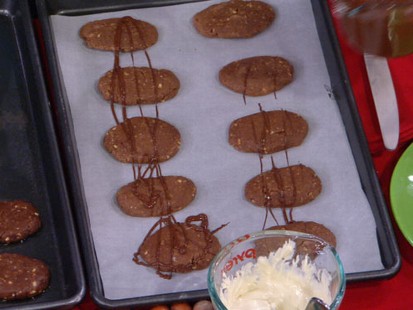 "12 Days of Cooking Challenge" winner shows off her recipe to Emeril Lagasse.
From the kitchen of Tarina Wimmer
|
Tarina spends the holidays baking with her family and these cookies have become her signature dish. They are sure to be a favorite on your cookie platter.
Ingredients
1 1/2 cups butter
2 1/4 cups confectioner's sugar
1 egg
1 tablespoon vanilla
3 1/4 cups all-purpose flour
1/2 teaspoon baking powder
1/2 cup unsweetened cocoa powder
1 2/3 cups ground hazelnuts
1 bag white chocolate chips
1 bag semi-sweet chocolate chips
Cooking Directions
Preheat oven to 375 degrees.
In a large bowl, cream together butter, sugar, egg, and vanilla until blended.
In another bowl, whisk together flour, baking powder, and cocoa powder. Then mix in ground hazelnuts until mixture is uniform.
Shape dough into ovals on lightly greased cookie sheets. Chill in freezer about 10 minutes or until firm. Bake at 375 for 10-12 minutes. Remove cookies from oven and place on rack. Let cool completely. Once cooled, place on wax paper.
In a microwave-safe bowl, melt semi-sweet chocolate chips and drizzle over cookies. Repeat in a separate bowl with white chocolate chips.
This recipe was styled by chef Karen Pickus for Good Morning America.
Other Recipes That You Might Like