Marco Borges' Walnut Bean Burger
Loaded With Flavor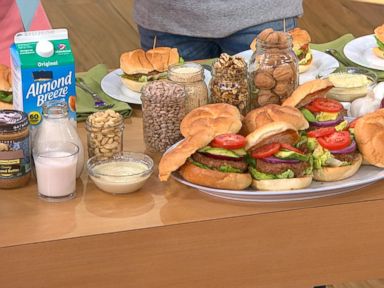 Beyonce's trainer discusses his book highlighting the benefits of a plant-based diet - and he shares some of his famous client's favorite recipes!
From the kitchen of Marco Borges
|
Marco Borges, who trains the superstar Beyonce, appeared on "GMA" today to promote "22-Day Revolution," his new cookbook highlighting the benefits of a vegan diet. This burger is a great source of omega-3 fatty acids. Serve the burger with your choices of toppings, sides, and breads.
Ingredients
For the burger:
1 cup quinoa, cooked (see below)
1 cup walnut meat (see below)
1 15-ounce can pinto beans, rinsed and drained (about 1 ½ cups)
2 tablespoons onion, finely diced
1 clove garlic, minced
½ teaspoon sea salt or to taste
Ground black pepper, to taste
For the quiona:
1 cup quinoa, uncooked and rinsed
2 cups of water
1/2 teaspoon sea salt
For the walnut meat:
1 cup raw walnuts, roughly chopped
1 tablespoon balsamic vinegar
1/2 tablespoon coconut aminos
3/4 tablespoon ground cumin
1/2 tablespoon ground coriander
dash smoked paprika
dash garlic powder
dash ground black pepper
dash sea salt
Cooking Directions
For the quinoa (Makes 3 cups):
In a medium saucepan, combine the quinoa, water, and salt and bring to a boil.
Reduce the heat to medium-low, cover, and simmer for about 25-30 minutes.
Fluff with a fork, remove from the heat, and cover until ready to enjoy!
Per 1/2 cup cooked serving: 104 calories, 4 grams protein, 18 grams carbohydrates, 2 grams total fat.
For the walnut meat (Makes 1 cup):
Combine all ingredients in a food processor and pulse several times until crumbly. Do not overblend.
Tip: Store in an airtight container in the refrigerator until ready to use. For optimum flavor, best if used within 4-5 days.
Per 1 tablespoon serving: 176 calories, 4 grams of protein, 5 grams carbohydrates, 17 grams total fat.
For the burger:
Preheat oven to 400 degrees Fahrenheit and lightly grease a baking sheet or line it with parchment paper.
Place the cooked and slightly cooled quinoa in a large mixing bowl.
Prepare the walnut meat and spoon it into the bowl.
In a food processor, pulse the pinto beans a few times, making sure not to overblend. Add the pinto beans to the quinoa and walnut meat. Add the onions, garlic, salt, and pepper and mix all the ingredients together until well combined. Taste and adjust seasonings if necessary.
Divide the mixture into 8 portions and firmly shape each portion into a patty. Place the patties on the baking sheet.
Bake the patties for 20 minutes. Flip them carefully and bake for another 10-15 minutes.
Serve the burgers on your bread of choice with desired toppings. Some topping ideas: Avocados, tomatoes, cashew cheese (recipe available on page 320 of the book), or BBQ sauce (page 312). Or serve the patties with a mixed green salad.
Tip: If you're pressed for time, cook the burgers in a skillet lightly greased with the oil of your choice over medium-high heat for about 4 minutes per side. The patties can be prepped and stored in the refrigerator for up to 2 days or in the freezer, in freezer bags layered with parchment paper for up to 2 months.
Per serving: 205 calories, 7 grams protein, 23 grams carbohydrates, 10 grams total fat.
Recipe courtesy Marco Borges. Copyright © 2016 by Marco Borges. Used with permission of Penguin Random House.
Recipe styled by Karen Pickus, chef/food stylist, "Good Morning America."
Other Recipes That You Might Like