Tosca Reno's Thai Basil Chicken Fried Rice
Quick and Tasty: Thai Basil Chicken Fried Rice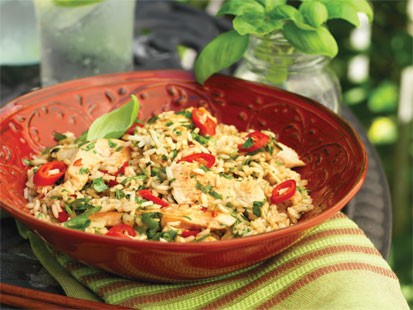 From the kitchen of Tosca Reno
|
At age 40 Tosca Reno was overweight and struggling in an unhappy marriage. Now a decade later, she's gone from unfit to a fitness guru and competitive bodybuilder who is helping others lose weight with her series of bestselling books, including her latest "The Eat-Clean Diet Recharged." CLICK HERE to visit her Web site.
Ingredients
4 tbsps. coconut butter (if that's unavailable, use olive oil)
2 shallots, peeled and finely chopped
2 scallions, whites and greens, sliced
4 cloves of garlic, passed through a garlic press
2 boneless, skinless chicken breasts, cut into 1/4-inch strips
2 Thai red peppers, cut into ribbons
2 tbsps. fish sauce
3 tbsps. oyster sauce
1/2 tsp. sea salt
1/2 cup chopped fresh Thai basil
2 cups cooked brown rice
1 handful fresh cilantro, coarsely chopped
A pinch of red pepper flakes
Cooking Directions
Heat the coconut butter in a large wok over medium-high heat. Add the shallots and scallions and stir-fry for a few minutes until fragrant.
Add the garlic, chicken and red peppers, and stir-fry for four or five minutes.
Add fish and oyster sauces and sea salt, and stir fry it into the mixture. If it's too hot, reduce the heat under the mixture slightly.
Add the basil and rice, and stir-fry until it's heated through.
Serve hot, garnished with cilantro and a pinch of red pepper flakes.
Other Recipes That You Might Like