Wild Mushroom Stuffing
This Delicious Side Will Make Your Thanksgiving Dinner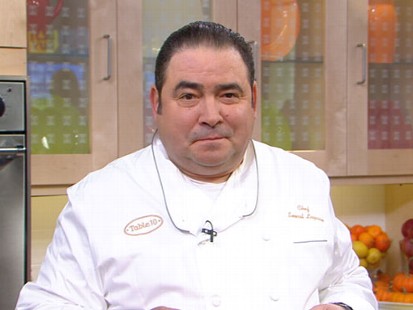 Emeril Lagasse has great recipes to add to your family's Thanksgiving meal.
From the kitchen of Emeril Lagasse
|
Treat your family this Thanksgiving with Emeril's wild mushroom stuffing. This recipe is packed with flavor and simple to make.
Ingredients
5 cups fresh white bread (such as ciabatta), crust removed and cubed
1 1/2 cups milk
6 slices apple bacon, sliced into 1/4-inch pieces
1 1/2 onions, finely chopped
3 ribs celery, finely chopped
1 tablespoon minced garlic
1 pound assorted mushrooms, sliced, such as shiitake and oyster
1 cup Marsala wine
1 egg, lightly beaten
1 1/2 tablespoons chopped fresh thyme
1 1/2 tablespoons chopped fresh oregano
3/4 cup chicken broth, or as needed
Salt and freshly ground black pepper, to taste
2 tablespoons fine dry breadcrumbs
Cooking Directions
In a bowl, soak the bread cubes in the milk.
In a saute pan, cook the bacon over medium-high heat until crisp and fat has rendered. Add the onion, celery, and garlic and cook until softened, about 5 minutes. Add the mushrooms and cook, stirring, until they have released their liquid and are soft, 4 to 6 minutes. Add the Marsala and cook until nearly evaporated. Remove from the heat and set aside until completely cooled.
Preheat the oven to 375 degrees F and butter a 9-inch square baking dish.
Squeeze any excess milk from the bread and place the bread in a large mixing bowl. Add the egg, mushroom mixture, chopped thyme and oregano, and enough broth to moisten the stuffing. Season with salt and pepper to taste.
Transfer mixture to the prepared baking dish and then sprinkle with the breadcrumbs. Cover with aluminum foil and bake for 30 minutes, then uncover and continue to cook until lightly browned on top and heated throughout, 15 to 30 minutes longer.
Serve hot.
Food styled by Karen Pickus.
Click here step-by-step instructions and pictures on how to make Emeril' wild mushroom stuffing.
Other Recipes That You Might Like