Roasted Brussels Sprouts
A No Fuss Side Packed With Flavor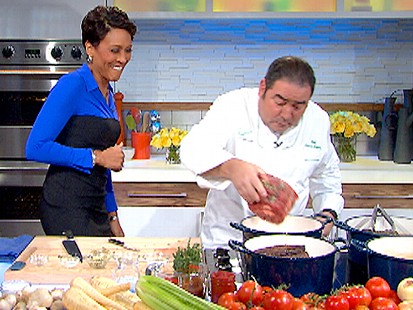 Chef prepares dish from his book, "Sizzling Skillets and Other One-Pot Wonders."
From the kitchen of Emeril Lagasse
|
Keep it simple with Emeril's roasted Brussels sprouts. This delicious side is just a delicious as it is easy to make.
Ingredients
2 pounds Brussels sprouts, stem ends trimmed, halved lengthwise
5 tablespoons olive oil
1 teaspoon salt
1/2 teaspoon freshly ground black pepper
1 teaspoon minced garlic
1/2 teaspoon grated lemon zest
1/4 cup finely grated Parmigiano-Reggiano cheese, plus more to taste
Cooking Directions
Preheat the oven to 375°F.
Toss the Brussels sprouts in 3 tablespoons of the olive oil, and season with the salt and pepper. Transfer them to a baking sheet and spread them out in one even layer.
Roast until the Brussels sprouts are crisp-tender and lightly caramelized around the edges, 20 to 25
minutes. Immediately transfer them to a large mixing bowl, and add the remaining 2 tablespoons olive oil, minced garlic, lemon zest, and Parmesan. Toss to coat evenly, sprinkle with more Parmesan as desired, and serve.
*Recipe courtesy of Emeril Lagasse from his bookFor more great Emeril recipes, click here.
Food styled by Karen Pickus.
Other Recipes That You Might Like