Caramelized Cane Syrup Sweet Potatoes
A Sweet and Savory Side You Won't Want to Miss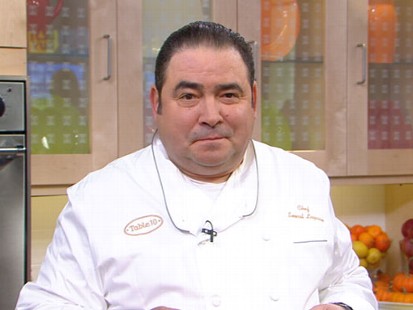 Emeril Lagasse has great recipes to add to your family's Thanksgiving meal.
From the kitchen of Emeril Lagasse
|
Nothing spells Thanksgiving quite like sweet potatoes. Here Emeril masterfully prepares the sweet potatoes with a sweet caramelized cane syrup.
Ingredients
About 3 pounds sweet potatoes, peeled and sliced crosswise into 1/2-inch-thick rounds
2 tablespoons canola or grapeseed oil
1/2 teaspoon salt
4 tablespoons (1/2 stick) butter, melted
1/4 cup cane syrup (we recommend Steen's)
1/2 cup packed dark brown sugar
1 cup pecan pieces
Cooking Directions
Preheat the oven to 400°F.
Combine the sweet potatoes with the oil and salt in a mixing bowl, and toss to coat well. Place the
sweet potatoes on a baking sheet and arrange them in a single layer. Transfer to the oven and cook until
they begin to caramelize and soften, about 30 minutes.
Meanwhile, combine all the remaining ingredients in a small mixing bowl.
Transfer the potatoes to a casserole dish. Pour the syrup mixture over them, and using a spatula, toss to coat well. Return the casserole to the oven and continue to cook, carefully stirring once, until the potatoes are caramelized and tender, about 30 minutes.
Serve hot.
*Recipe courtesy of Emeril Lagasse from his bookFor more great Emeril recipes, click here.
Food styled by Karen Pickus.
Other Recipes That You Might Like