Sunchokes, Carrots, and Parsnips With Bacon
Reinvent Your Thanksgiving Vegetable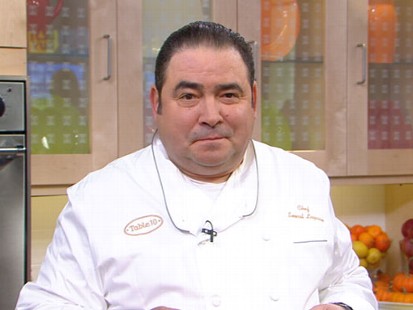 Emeril Lagasse has great recipes to add to your family's Thanksgiving meal.
From the kitchen of Emeril Lagasse
|
Spice up your dinner with winter vegetable. Emeril shows you just how to prepare delicious dish of sunchokes, parsnips and carrots.
Ingredients
2 pounds sunchokes, scrubbed well and cut into 1-inch wedges
1 pound carrots, cut into 2-inch diagonal pieces
1 pound parsnips, cut into 2-inch diagonal pieces
3/4 cup olive oil
3/4 teaspoon salt
3/4 teaspoon freshly ground black pepper
4 ounces sliced bacon, cut into 1/2-inch pieces (about 2/3 cup)
6 shallots, thinly sliced (about 2/3 cup)
1 teaspoon minced garlic
2 tablespoons chopped fresh parsley leaves
3/4 teaspoon sugar
1/4 cup cider vinegar
Cooking Directions
Preheat the oven to 500°F.
In a medium bowl, combine the sunchokes, carrots, parsnips, ¼ cup of the olive oil, the salt, and the
pepper. Transfer the vegetables to a rimmed baking sheet and roast in the oven for 20 minutes, until
lightly caramelized and tender, stirring once midway through cooking.
While the vegetables are roasting, place the bacon in a small sauté pan over medium-high
heat and cook for 2 minutes. Add the shallots, reduce the heat to low, and cook for 5 more minutes, or until the bacon fat is rendered and the shallots are lightly caramelized. Drain, discarding all but 1 tablespoon of the fat from the pan.
Transfer the bacon/shallot mixture to a medium mixing bowl. Add the garlic, parsley, and sugar, and
whisk to combine. Whisk in the vinegar. Slowly whisk in the remaining ½ cup olive oil, and set aside.
Transfer the roasted vegetables to the mixing bowl, and toss with the vinaigrette to combine. Serve warm.
*Recipe courtesy of Emeril Lagasse from his bookFor more great Emeril recipes, click here.
This recipe was styled by chef Karen Pickus for Good Morning America.
Other Recipes That You Might Like