Orange Cranberry Sauce
A New Twist to a Classic Thanksgiving Favorite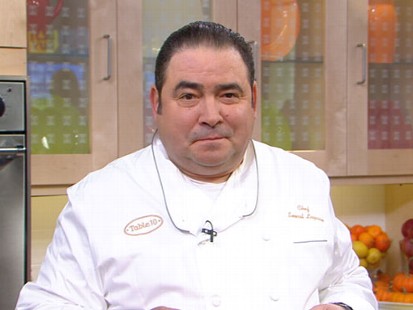 Emeril Lagasse has great recipes to add to your family's Thanksgiving meal.
From the kitchen of Emeril Lagasse
|
Emeril adds a unique twist to this classic holiday favorite. Here he blends orange into the cranberry sauce making the perfect holiday side.
Ingredients
1 bag (12 ounces) cranberries
Grated zest and juice of 2 oranges
1/4 cup ruby port
3/4 cup sugar, or more to taste
1/2 teaspoon ground cinnamon
1/2 teaspoon ground cardamom
1 cup toasted pecans or walnuts
Cooking Directions
Combine the cranberries, orange zest and juice, port, sugar, cinnamon, and cardamom in a small
saucepan, and bring to a boil. Reduce the heat to a simmer and cook, stirring occasionally, until the
cranberries are tender and the sauce has thickened, about 10 minutes.
Taste, and add more sugar if desired. Stir in the nuts and set aside to cool. Serve at room temperature. (The sauce can be made up to 3 days in advance and stored in an airtight container in the refrigerator until ready to serve.)
*Recipe courtesy of Emeril Lagasse from his bookFor more great Emeril recipes, click here.
This recipe was styled by chef Karen Pickus for Good Morning America.
Click here step-by-step instructions and pictures on how to make Emeril' orange cranberry sauce.
Other Recipes That You Might Like