Anna's Artichokes
Recipe Courtesy Carol Anderson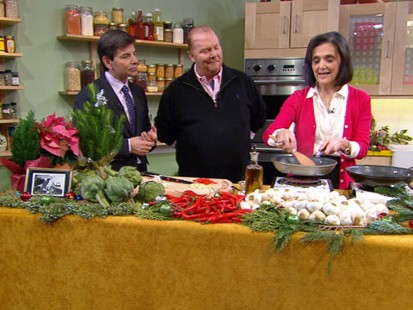 "12 Days of Cooking Challenge" winner and Mario Batali bring Italy to Christmas.
From the kitchen of Carol Anderson
|
Carol learned this dish from her grandmother Anna who spent years perfecting it. Now you can make her family tradition part of your family's dinner.
Ingredients
4 tablespoons olive oil, divided
3 anchovy filets
3 cloves of garlic, chopped and divided
¼ teaspoon crushed red pepper flakes
1 tablespoon capers
4 ounces fresh breadcrumbs
Salt and pepper to taste
2 tablespoons toasted pine nuts
2 packages frozen artichoke hearts, thawed
1/4 cup chopped parsley
Cooking Directions
Place 2 cloves of chopped garlic, 3 tablespoons of oil and anchovies in a skillet and heat slowly until the anchovies melt and the garlic becomes softened and golden. Be careful not to cook it too quickly or the garlic will burn and turn bitter.
Add the red pepper flakes, capers and breadcrumbs, stirring until the bread is toasted, crispy and deep golden brown. Add salt and pepper to taste, and the pine nuts. This mixture can be made ahead of time, if desired.
In a non-stick pan, sauté the artichokes in the oil and the remaining chopped garlic until they take on a bit of color and are tender. Add the breadcrumb mixture and the parsley and serve.
This recipe was styled by chef Karen Pickus for Good Morning America.
Other Recipes That You Might Like