Clinton Street Baking Company's Flourless Chocolate Cake
Recipe Courtesy Clinton Street Baking Company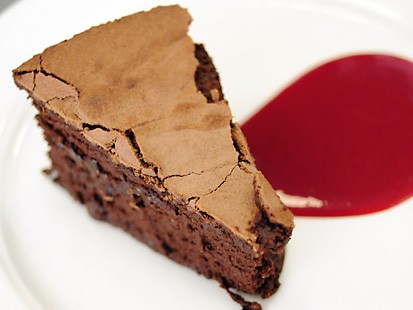 From the kitchen of Clinton Street Baking Company
|
This cake is rich, dense, and a true chocolate lover's dream. The secret is the freshly brewed coffee, which makes it really intense, moist, and, well, caffeinated.
Ingredients
1 tablespoon unsalted butter at room temperature
¼ cup plus 1 cup sugar
1¼ cups strong, freshly brewed or cold coffee
3¾ cups semisweet chocolate chunks (52–62% cacao)
7 large eggs
1¾ cups heavy cream, chilled
½ cup unsweetened cocoa powder, sifted (we recommend Valrhona or Ghirardelli)
Raspberry Caramel Sauce (optional)
Real Whipped Cream (optional)
Cooking Directions
Preheat the oven to 325°F. Lightly grease a 10-inch springform cake pan. Add cup of the sugar to the pan. Shake the sugar along the buttered sides and bottom so that the pan is coated. Tap the pan with your fingers to release any excess sugar and discard.
If the coffee is hot, pour it over the chocolate chunks in a bowl and whisk quickly to melt the chocolate. If the coffee is not hot, place the chunks and coffee together in a microwave-safe container and heat together for 1 to 2 minutes on high, until the chocolate is melted.
Bring a pot of water to a simmer. In a metal or glass bowl, whisk together the eggs with the remaining cup sugar. Place the bowl over the simmering water and whisk continuously until the eggs become light and fluffy.
In a separate bowl, whip the cream to medium peaks either by hand or with a handheld mixer.
Add the coffee-and-chocolate mixture to the eggs in two stages, folding between each stage. Gently fold in the cocoa powder and then the whipped cream, using the same method.
Pour the batter into the prepared pan. Wrap the bottom of the springform in heavy-duty foil. Place the pan in a shallow baking dish and fill the dish with hot tap water until the water comes up 1 to 2 inches along the sides of the pan.
Bake for 1 hour and 20 minutes. Turn off the oven, prop open the oven door, and allow the cake to cool in the oven for 30 minutes. Remove the cake from the oven and cool for 2 hours in the fridge or at room temperature.
To serve, remove the outer ring of the pan. Cut the cake into clean slices using a knife dipped in warm water and wiped in between slices. Serve with Raspberry Caramel Sauce and Real Whipped Cream.
Click here to check out the Clinton Street Baking Company's cookbook
Other Recipes That You Might Like