Clinton Street Baking Company's Black & White Cake
Recipe Courtesy Clinton Street Baking Company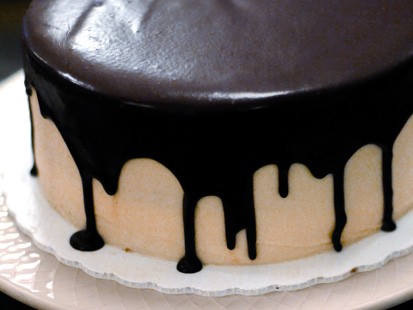 From the kitchen of Clinton Street Baking Company
|
Our most popular cake gets its super moistness from a secret ingredient—pumpkin puree.
Ingredients
Cake
1½ sticks (12 tablespoons) unsalted butter, softened
1 cup light brown sugar
1 cup granulated sugar
2 large eggs, plus 1 yolk
1½ cups all-purpose flour
2/3 cup unsweetened cocoa powder, sifted
2 teaspoons baking powder
1 teaspoon baking soda
1 cup pumpkin puree
½ cup buttermilk
2 teaspoons vanilla extract
Frosting
8 ounces cream cheese, softened
½ stick (4 tablespoons) unsalted butter, softened
4 cups confectioners' sugar
½ cup whole milk
Chocolate Glaze
½ cup heavy cream
3 tablespoons light corn syrup
1 tablespoon unsalted butter
½ cup semisweet chocolate chunks (52–62% cacao)
Cooking Directions
Make the Cake
Preheat the oven to 300°F. Lightly grease and flour two 8-inch round cake pans.
In the bowl of an electric mixer, cream the butter and sugars. Add the eggs and yolk and combine. Whisk the remaining dry ingredients together, in a separate bowl. Whisk the pumpkin puree together with the buttermilk and vanilla in another bowl. Alternate mixing dry ingredients with the pumpkin mixture into the egg mixture. Start with dry and end with wet. Divide the batter between the prepared cake pans. Bake for 30 to 40 minutes, until a toothpick inserted in the middle comes out clean. Let the cakes cool and unmold.
Make the Frosting
In the bowl of an electric mixer, cream the cream cheese and butter together until soft. Add the confectioners' sugar, blending in 1 cup at a time. Add the milk slowly, as needed, and mix until the frosting is smooth and creamy.
Mek the Glaze
Heat the heavy cream, corn syrup, and butter in a saucepan until boiling. Place the chocolate in a bowl. Pour the cream mixture over the chocolate until it is completely melted, mixing gently with a rubber spatula until the glaze is smooth.
Assemble the Cake
Slice each cake in half with a long serrated knife to create 4 thin layers. Place 1 bottom layer on a cake plate. Ice the top with 3 to 4 tablespoons frosting and repeat with the remaining layers. You will have a 4-layer unfrosted cake. Then use a cake spatula to mask the top and sides until the cake is evenly frosted. Set it in the fridge for 10 minutes. Then remove the cake from the fridge and pour the chocolate glaze over the center of the cake until the top is covered and the glaze runs over the sides, still showing some frosting. Let the glaze set and serve.
Click here to check out the Clinton Street Baking Company's cookbook
Recipe Summary
Main Ingredients: butter, brown sugar, granulated sugar, eggs, cocoa powder, buttermilk, pumpkin puree, cream cheese, confectioner's sugar
Course: Party Platter, Cookies, Dessert, Snack
Other Recipes That You Might Like