Individual Wellingtons
Enjoy this Hearty Dish With Your Loved One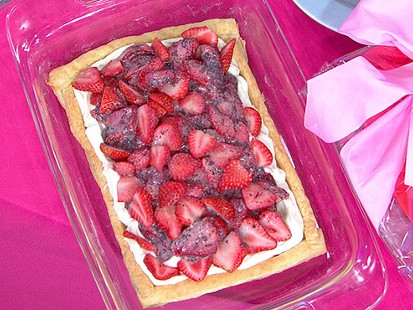 Sandra Lee's delicious Beef Wellington with romantic strawberry tart dessert.
From the kitchen of Sandra Lee
|
Are you looking for just the right dish to show your loved one that you care? Well, look no futher. This hearty beef Wellington will do the trick.
Ingredients
2 tablespoons butter
1 cup chopped fresh mushrooms
1 cup frozen chopped onions, Ore-Ida®
2 teaspoons crushed garlic, Gourmet Garden®
1/2 teaspoon salt
2 tablespoons cognac
1 sheet (from 17-ounce box) frozen puff pastry, thawed, Pepperidge Farm®
1 box (5.2-ounce) semisoft pepper cheese, softened, Boursin®
2 cups coarsely chopped leftover beef or lamb
1 egg, lightly beaten
1 teaspoon water
Cooking Directions
In a large skillet, melt butter over medium heat. Add mushrooms, onions, garlic, and salt. Cook about 10 minutes or until juices released from mushrooms have evaporated. Add cognac; cook until cognac has evaporated.
On a lightly floured surface, roll out puff pastry to a 12-inch square. Cut into four 6-inch squares. Divide cheese among puff pastry squares, placing cheese in center of each square. Top with leftover beef; top with mushroom mixture.
In a small clear bowl, lightly whisk together egg and the water. Brush the edges of the puff pastry squares with the egg mixture. Pull the corners of each pastry square to the center; pinch edges closed. Place, seam sides down, on a baking sheet. Chill in refrigerator for 15 minutes.
Preheat oven to 400°F. Remove Wellingtons from refrigerator and brush tops of pastries with the remaining egg mixture. Bake in preheated oven about 25 minutes or until puffed and golden brown.
Click here for more great recipes from Sandra Lee's cookbook.
This recipe was styled by chef Karen Pickus for Good Morning America.
Other Recipes That You Might Like