Lia Guerra's Pork 'N' Beans Sandwich
Recipe Courtesy of Lia Guerra of San Marcos, Texas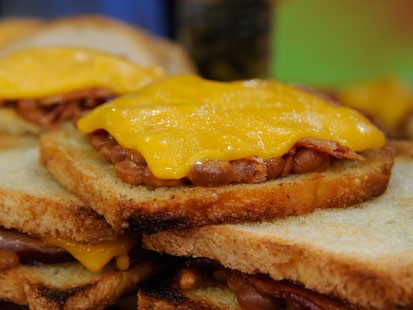 From the kitchen of Lia Guerra
|
Ingredients
2 slices white bread, thickly sliced
Butter
3 or 4 slices of bacon, cooked
1 can Pork 'n' Beans
Cheddar cheese (slices)
Cooking Directions
Butter bread slices and toast both in a broiler-safe skillet until golden brown.
Spoon beans straight from can onto one slice of toast.
Top with bacon slices, and cover with a slice of cheddar cheese.
Place under a preheated broiler until cheese melts.
Serve as an open-faced sandwich, or place the other slice of toast on top and cut diagonally.
Other Recipes That You Might Like