Ron Douglas' Fiesta Lime Chicken
Applebee's Copycat Recipe Courtesy of Ron Douglas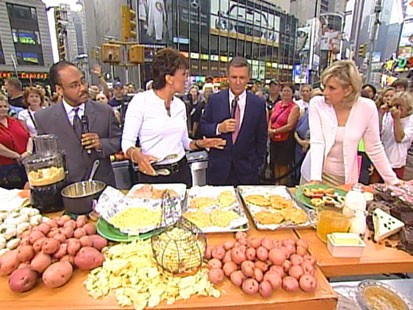 Discover the "GMA" anchor's classic potato chip chicken dish.
From the kitchen of Ron Douglas
|
This is Ron Douglas' version of a popular Applebee's dish, fiesta lime chicken. Douglas is the author of the book "America's Most Wanted Recipes," published in 2009. For more information, log on to www.recipesecrets.net. CLICK HERE to learn about some healthy alternative ingredients.
Ingredients
For the chicken:
1 cup water
1/3 cup teriyaki sauce
½ cup lime juice
3 cloves of garlic, minced
1 teaspoon tequila
1 teaspoon liquid smoke
½ teaspoon salt
¼ teaspoon ginger, ground
1 pound chicken breasts, boneless and skinless
For the dressing:
¼ cup mayonnaise
¼ cup sour cream
2 tablespoons salsa, spicy and chunky
1 tablespoon milk
1 teaspoon Cajun blackening spice
¼ teaspoon parsley flakes
¼ teaspoon Tabasco sauce
1/8 teaspoon will weed, dried
1/8 teaspoon cumin, ground
1 cup Colby Jack cheese, shredded
2 cups corn chips, crumbled
Cooking Directions
To prepare the chicken:
Whisk together the water, teriyaki, lime juice, garlic, tequila, liquid smoke, salt and ginger.
Coat the chicken in the mixture, and marinate in the refrigerator for at least 2 hours.
Preheat the boiler. Grill the marinated chicken breasts for 3 to 5 minutes per side, until cooked through.
Discard the marinade.
Brush the grilled chicken with the chilled dressing, sprinkle with the cheese and broil until the cheese has melted.
Serve the chicken over a bed of crumbled chips.
To prepare the dressing:
Whisk together the mayonnaise, sour cream, salsa, milk, Cajun spice, parsley, Tabasco, dill weed, and cumin.
Cover, and refrigerate until needed.
Other Recipes That You Might Like