Ron Douglas' Fettuccine Alfredo
Olive Garden Copycat Recipe Courtesy of Ron Douglas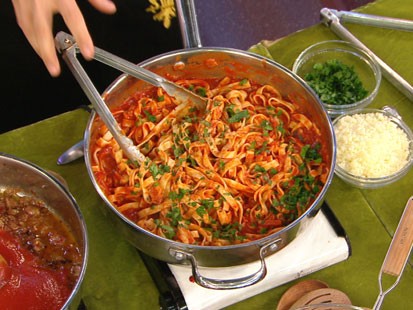 The "Top Chef" contestant prepares fettuccine amatriciana and other recipes.
From the kitchen of Ron Douglas
|
This is Ron Douglas' version of a popular platter from the Olive Garden, fettuccine alfredo. Douglas is the author of the book "America's Most Wanted Recipes," published in 2009. For more information, log on to www.recipesecrets.net. CLICK HERE to learn about some healthy alternative ingredients.
Ingredients
1 pound fettuccine
1 ½ cups of milk
1 ½ cups heavy cream
½ cup Parmesan cheese, grated
½ cup Romano cheese, grated
6 egg yolks, jumbo
Salt
Pepper, cracked
1 teaspoon garlic powder
½ teaspoon parsley flakes
Cooking Directions
Cook the fettuccine according to the package directions.
Heat the milk and cream in a large, heavy saucepan until the mixture comes to a simmer.
Slowly whisk in the cheese and then remove from the heat.
Place the egg yolks in a bowl and slowly whisk in a portion of the hot milk and cream mixture.
Slowly pour the egg yolk mixture into the milk and cream mixture in the pan.
Season to taste with salt and pepper.
Add the cooked fettuccine to the saucepan.
Sprinkle in the garlic powder and stir until the sauce thickens to the desired consistency.
Sprinkle with the parsley. Serve immediately.
NOTE: For a healthier alternative: use fat-free cheese, low-fat milk and whole-wheat pasta.
Other Recipes That You Might Like