Ron Douglas' Marinated Steak
Outback Steakhouse Copycat Recipe Courtesy of Ron Douglas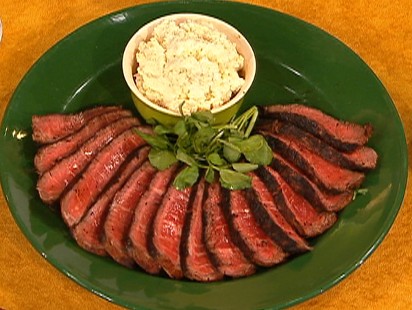 Super Bowl steak recipes from NYC's Morton's Steakhouse.
From the kitchen of Ron Douglas
|
This is Ron Douglas' version of the Outback Steakhouse favorite, marinated steak. Douglas is the author of the book "America's Most Wanted Recipes," published in 2009. For more information, log on to www.recipesecrets.net. CLICK HERE to learn about some healthy alternative ingredients.
Ingredients
4 beef sirloin steaks
1 cup beer
1 tablespoon brown sugar, dark and packed
1 teaspoon salt, seasoned
½ teaspoon pepper
½ teaspoon onion powder
½ teaspoon garlic powder
Cooking Directions
Place the steaks in a shallow pan, pour the beer over and marinate for 1 hour in the refrigerator.
Remove the steaks from the beer.
Combine the dry ingredients and rub over the steaks.
Let rest 30 minutes in the refrigerator.
Preheat the grill to medium-high heat.
Grill the steaks to the desired degree of doneness.
NOTE: For the best results, let the steak marinate in the dry ingredients overnight, in the refrigerator.
Other Recipes That You Might Like