Guy Fieri's Chili Lime Corn on the Cob
Recipe Courtesy of Guy Fieri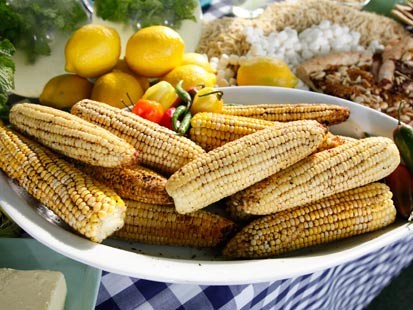 From the kitchen of Guy Fieri
|
Ingredients
4 ears of corn, in husk
3 tablespoons unsalted butter, at room temperature
1 teaspoon lime zest
1 teaspoon chili powder
¼ teaspoon garlic, granulated
½ teaspoon salt
½ teaspoon black pepper, freshly cracked
Cooking Directions
In a small bowl, combine butter, zest, chili powder, salt and pepper and set aside.
Carefully peel back husk from ear, without detaching from the bottom, remove silk from corn, fold the husk back around the ears and soak in water for 30-45 minutes.
Make sure to weigh down the ears so that they are fully submerged.
Preheat a BBQ to medium, indirect heat.
Alternate indoor method:
Preheat a heavy grill pan, prefer cast iron, to medium high heat.
Remove ears from water, drain, open husk, dry ear with paper towel and spread butter mixture evenly on corn.
Fold husk back over corn and grill for 15-20 minutes.
Serve immediately.
If indoor method is used, make sure to use a hood fan.
Other Recipes That You Might Like