Guy Fieri's Minty Lemonade
Recipe Courtesy of Guy Fieri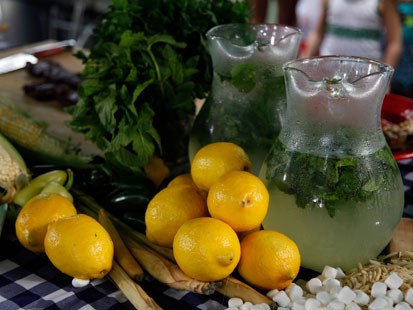 From the kitchen of Guy Fieri
|
Ingredients
1/2 cup lemon juice, fresh squeezed
3/4 cup sugar
6 cups water
2 teaspoons lemongrass, minced
1 teaspoon lemon zest
1 cup mint, fresh, rough chop
16 ounces ginger ale
Ice
Cooking Directions
Into a measuring cup, juice lemons, strain juice.
Chill.
In a small saucepan over med heat, combine sugar, one cup of the water, lemongrass and zest.
Bring to a simmer, stirring frequently to dissolve sugar.
Cool and chill.
When ready to serve, in a 2-quart pitcher, combine lemon juice, ginger ale and simple sugar mixture.
Place a few ice cubes into the bottom of a 16-ounce tall serving glass.
On top of the ice, put ¼ cup of the mint.
Top with a couple more ice cubes and muddle.
Fill the rest of the glass with ice, pour lemonade mixture in and chug!
Other Recipes That You Might Like