Scott Conant's Spicy Tomato Chutney
Learn to Love the Tomato With This Delicious Dish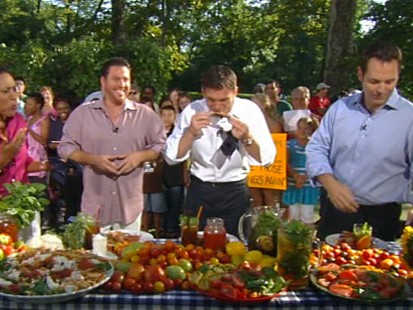 Scarpetta chef Scott Conant cooks up balsamic pork ribs with a spicy chutney.
From the kitchen of Scott Conant
|
Scott Conant is a man that knows the value of a good tomato. With just a few slices and dices, Conant can turn many meals, even some home cooked favorites, into new flavor-filled masterpieces.
Ingredients
3/4 cup apricot preserves
1/4 cup Trucioletto vinegar (red wine vinegar)
1 tbsp mustard seeds
1 tsp red chili flakes
1 quart on-the-vine tomatoes, peeled, de-seeded, and small diced
Salt
Cooking Directions
Heat the preserves with a little water and bring to a boil. Caramelize the preserves.
Deglaze with vinegar. Continue cooking until vinegar has reduced and begins to thicken, about 5 minutes.
Add mustard seeds and red pepper flakes. Stir to combine.
Add the tomatoes and cook for five minutes.
Immediately cool.
Other Recipes That You Might Like