Scott Conant's Heirloom Tomato Salad
Learn to Love the Tomato With This Delicious and Healthy Salad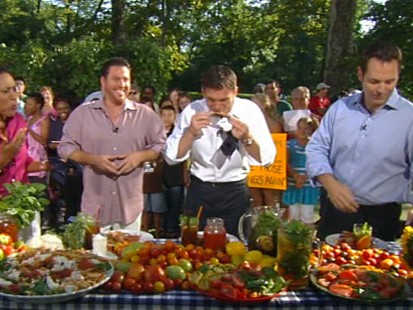 Scarpetta chef Scott Conant cooks up balsamic pork ribs with a spicy chutney.
From the kitchen of Scott Conant
|
Scott Conant is a man that knows the value of a good tomato. With just a few slices and dices, Conant can turn many meals, even some home cooked favorites, into new flavor-filled masterpieces. Recipe courtesy Scott Conant.
Ingredients
4 medium heirloom tomatoes, different colors
1 bunch basil, chiffonade (leaves from about 3 to 4 sprigs)
Pinch of Maldon sea salt
Pinch of fresh black pepper
2 tbsp Truciuleto vinegar (red wine vinegar)
1/2 cup extra virgin olive oil
Cooking Directions
Wash and dry the tomatoes.
Slice in wedges and arrange on the plate.
Sprinkle the tomatoes with the basil chiffonades.
Give a few turns of the pepper mill over the tomatoes and sprinkle with some Maldon sea salt.
In a bowl, add the vinegar and slowly add the extra virgin olive oil to form an emulsion. Season with salt and pepper.
Drizzle the vinaigrette over the tomatoes.
Other Recipes That You Might Like