Scott Conant's Warm Pasta Salad
Learn to Love the Tomato With This Delicious and Healthy Salad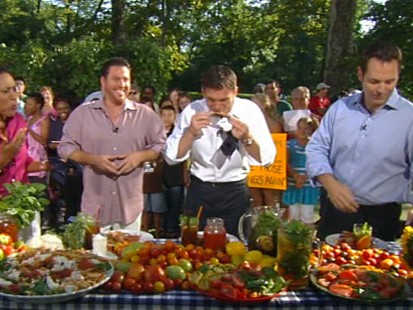 Scarpetta chef Scott Conant cooks up balsamic pork ribs with a spicy chutney.
From the kitchen of Scott Conant
|
Scott Conant is a man that knows the value of a good tomato. With just a few slices and dices, Conant can turn many meals, even some home cooked favorites, into new flavor-filled masterpieces. Recipe courtesy Scott Conant.
Ingredients
1 pound good quality dried Penne Pasta
2 cups stewed baby tomatoes
2 cups cherry tomatoes, raw and cut in half
1 bunch basil, chiffonade (leaves from about 6 sprigs)
1/4 cup extra virgin olive oil
2 balls burrata cheese, diced (about 6 oz per ball)
Salt
Fresh black pepper
Cooking Directions
In a large pot of salted water, cook the dried penne until al dente about 12-14 minutes.
Drain the water and place the pasta in a bowl.
Add stewed baby tomatoes, cherry tomatoes, basil, and extra virgin olive oil. Season with a little salt and pepper.
Toss the burrata in the bowl when the pasta has cooled slightly, so the cheese doesn't melt too much.
Other Recipes That You Might Like