Scott Conant's Stewed Baby Tomatoes
Learn to Love the Tomato With These Delicious Baby Ones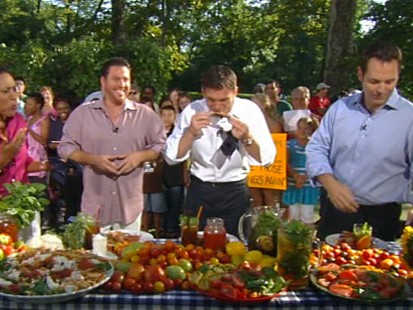 Scarpetta chef Scott Conant cooks up balsamic pork ribs with a spicy chutney.
From the kitchen of Scott Conant
|
Scott Conant is a man that knows the value of a good tomato. With just a few slices and dices, Conant can turn many meals, even some home cooked favorites, into new flavor-filled masterpieces.
Try these Stewed Baby Tomatoes in Conant's Warm Pasta Salad.
Ingredients
2 tbsp extra virgin olive oil
1 tbsp garlic, sliced thin
1 quart mixed cherry tomatoes, halved
1 tsp oregano, chopped
1 cup tomato sauce
Salt
1 tbsp basil leaves, chiffonade
Cooking Directions
In a sauté pan, heat oil slightly. Add garlic slices and sauté for 30 seconds. There should be no color on the garlic.
Add cherry tomatoes and oregano to the pan and continue to sauté. Season with a little salt.
Cherry tomatoes will release their juices. Continue cooking until fairly dry.
Add tomato sauce and reduce any residual liquid.
Add basil and mix to incorporate.
The sauce should be chunky, fresh looking, and not too thin.
Adjust seasoning.
Other Recipes That You Might Like