Wolfgang Puck's Grilled Summer Vegetable Salad
Get Healthy Without Getting Off the Grill This Labor Day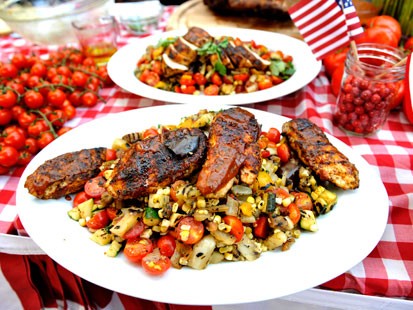 From the kitchen of Wolfgang Puck
|
Labor Day might be a day off for most, but at least one person will be working hard: the master griller.
Luckily, another master griller, Wolfgang Puck, dropped by "Good Morning America" to share some of his best Labor Day dishes. So strike up the grill and get ready for some delicious fun.
Ingredients
1 organic red bell pepper, halved
1 organic yellow bell pepper, halved
1 small organic fennel bulb, cut into 1/3 inch slices
1 small eggplant, cut into 1/2 inch slices
1 ear of organic corn, shucked
1 small onion, cut into 1/3 inch slices
1 small zucchini or yellow squash, cut lengthwise into 1/2 inch slices
Extra virgin olive oil
1 organic jalapeno, roasted, peeled and seeded
2/3 cup fresh organic lime juice
1/3 cup packed cilantro leaves
2 teaspoons ground cumin
1-1/2 cups cherry tomatoes, halved
1/4 cup extra-virgin olive oil
2 tbsp honey
Salt pepper to taste
Cooking Directions
Prepare the grill. Toss the vegetables with olive oil to coat lightly, and arrange them in one layer on a hot grill. Grill the vegetables, turning occasionally, for 10 to 20 minutes, or until they are just tender. The cooking time will vary according to the vegetable. (Alternatively, grill the vegetables on a ridged grill pan, or broil them in a preheated broiler.) As the vegetables are done, transfer them to a platter to cool; when they are cool enough to be handled, coarsely chop them.
In a blender, combine the jalapeno, lime juice, half the cilantro, and half the cumin until smooth. In a bowl, combine the chopped vegetables, tomatoes, cumin, remaining cilantro, and olive oil. Stir in the blended jalapeno mixture, and toss well. Season with salt and pepper to taste.
Other Recipes That You Might Like