Wolfgang Puck's Grilled Eggplant Moroccan Style
Get Healthy Without Getting Off the Grill This Labor Day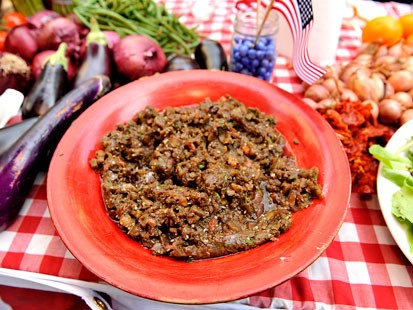 From the kitchen of Wolfgang Puck
|
Labor Day might be a day off for most, but at least one person will be working hard: the master griller.
Luckily, another master griller, Wolfgang Puck, dropped by "Good Morning America" to share some of his best Labor Day dishes. So strike up the grill and get ready for some delicious fun.
Ingredients
8 eggplants (about 4 lbs total weight)
1/2 cup extra virgin olive oil
1 head of garlic
1 large red or Bermuda onion
2 tablespoons toasted and ground cumin seeds
1 cup tomato concasse
1 cup balsamic vinegar
1/2 to 3/4 cup sugar
Salt and pepper, to taste
3 to4 tablespoons za'atar spice blend
1/2 cup fresh minced parsley
Cooking Directions
Preheat grill to medium heat setting.
Rub garlic with olive oil. Wrap in aluminum foil and cook over medium heat on the barbecue until tender.
Prick the eggplants in a few places with a fork. Grill, turning frequently, until charred and very tender but not mushy, about 15 to 20 minutes. (Note: if the eggplants are charring too quickly, place them over a cooler side of the grill with no direct flame underneath.)
Transfer eggplants to a cooling rack and allow to cool completely. Scrape meat with a spoon and chop finely.
Cut onion in 1/2 inch slices. Season with salt and pepper and grill them until lightly charred on both sides.
Remove garlic from aluminum foil. Squeeze out garlic puree – you should have a sweet, charred taste. Remove the onions from the grill and chop finely.
Place the eggplant, garlic and onion in a stainless steel bowl. Add ground cumin, chopped tomatoes, balsamic vinegar, sugar, salt and pepper. Blend well. Add olive oil, za'tar, and minced parsley. Serve at room temperature as a garnish to your barbecued lamb, pork or chicken, or, with small croutons or flatbread.
Other Recipes That You Might Like