Home
>
GMA
>
Recipes Home
>
Wolfgang Puck's Mediterranean Grilled Chopped Vegetable Salad With Feta
Wolfgang Puck's Mediterranean Grilled Chopped Vegetable Salad With Feta
Get Healthy Without Getting Off the Grill This Labor Day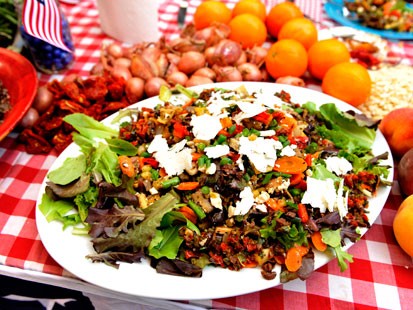 From the kitchen of Wolfgang Puck
|
Labor Day might be a day off for most, but at least one person will be working hard: the master griller.
Luckily, another master griller, Wolfgang Puck, dropped by "Good Morning America" to share some of his best Labor Day dishes. So strike up the grill and get ready for some delicious fun.
Ingredients
1 medium eggplant
1 medium zucchini
1 medium yellow squash
1 medium fennel bulb
1 small red onion
8 asparagus spears
3/4 cup (180 ml) extra-virgin olive oil
Salt
Freshly ground black pepper
30 organic green beans, trimmed
10 organic baby carrots, trimmed
1/2 cup (125 ml) pitted and halved Kalamata olives
1 cup (250 ml) mixed organic baby lettuces
1/2 cup (125 ml) organic crumbled feta cheese, plus 1/4 lb (125 g) block
3 tablespoons lemon juice
3 tablespoons sherry vinegar
1/2 cup (125 ml) Sun-Dried Tomato Vinaigrette (recipe follows)
1/4 cup (60 ml) chopped fresh parsley leaves
Cooking Directions
Cut the eggplant, zucchini, and squash diagonally into slices 1/2 inch (12 mm) thick. Trim the fennel and cut crosswise into slices 1/2 inch (12 mm) thick. Peel the onion and cut crosswise into slices 1/2 inch (12 mm) thick. Trim the asparagus.
With 1/2 cup (125 ml) of the olive oil, coat all the vegetables. Season with salt and pepper. Set the vegetables aside.
Build a fire in a charcoal grill, or preheat a gas grill, for indirect-heat cooking.
Meanwhile, bring a large pot of salted water to a boil and file a mixing bowl with ice and water. Add the green beans to the boiling water and, as soon as it returns to the boil and the beans are bright green, use a wire skimmer or slotted spoon to transfer them to the ice water. Add the baby carrots and boil until tender-crisp, 2 to 3 minutes; transfer to the ice water. Drain the vegetables and set aside.
When the fire is hot, place the vegetables on the cooking grid not directly above the heat. Cook, turning as necessary to prevent scorching, until are nicely browned and tender-crisp, 5 to 7 minutes total cooking time. As they are done, transfer the vegetables to a platter and leave to cool.
Cut the grilled vegetables into 1/2-inch (12-mm) pieces. Cut the carrots and green beans on the bias into 1/4-inch (6-mm) pieces.
Put all the vegetables, olives, lettuces and crumbled feta in a large salad bowl. Add the remaining olive oil, lemon juice, vinegar, and salt and pepper to taste. Toss well.
Divide the 1/2 cup (125 ml) of vinaigrette among 4 large salad plates, spooning it around the edge. Mound the salad mixture evenly in the middle. Using a cheese plane or swivel-bladed vegetable peeler, shave the block of feta over each salad. Garnish with parsley and serve immediately.
Other Recipes That You Might Like