Wolfgang Puck's Sun-Dried Tomato Vinaigrette
Get Healthy Without Getting Off the Grill This Labor Day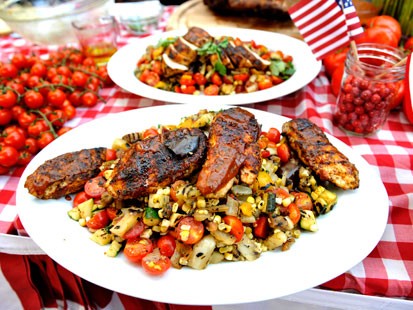 From the kitchen of Wolfgang Puck
|
Labor Day might be a day off for most, but at least one person will be working hard: the master griller.
Luckily, another master griller, Wolfgang Puck, dropped by "Good Morning America" to share some of his best Labor Day dishes. So strike up the grill and get ready for some delicious fun.
Ingredients
2 cups extra-virgin olive oil
3/4 cup (180 ml) sherry vinegar
1/2 cup (125 ml) chopped sun-dried tomatoes
1/2 cup (125 ml) pitted and chopped Kalamata olives
1/4 cup (60 ml) pitted and chopped Niçoise olives
1/4 cup (60 ml) honey
3 tablespoons drained chopped capers
2 tablespoons minced shallot
2 tablespoons chopped parsley leaves
1 1/2 tablespoons chopped mint leaves
1 tablespoon chopped basil leaves
1 tablespoon minced garlic
1 tablespoon grated organic orange zest
Salt
Freshly ground black pepper
Cooking Directions
Put all the ingredients together in a large mixing bowl, adding a little salt and pepper. With a wire whisk, whisk them together briefly, then taste and, if necessary, adjust the seasonings with more salt and pepper. Cover and refrigerate until ready to use.
Other Recipes That You Might Like