Wolfgang Puck's Ginger Spiced Grilled Peaches
Get Healthy Without Getting Off the Grill This Labor Day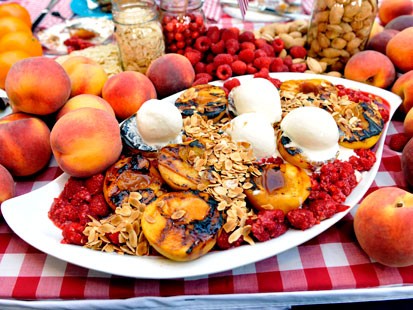 From the kitchen of Wolfgang Puck
|
Labor Day might be a day off for most, but at least one person will be working hard: the master griller.
Luckily, another master griller, Wolfgang Puck, dropped by "Good Morning America" to share some of his best Labor Day dishes. So strike up the grill and get ready for some delicious fun.
Ingredients
6 medium peaches, firm yet ripe
1/4 cup light Brown Sugar
1 Tbsp sugar
1/4 tsp ginger, ground
1/8 tsp cinnamon
1 Tbsp water
2 tsp lemon Juice
2 pints/10 oz raspberries
1 pint vanilla Ice Cream
1/4 cup sliced almonds, toasted golden brown
Cooking Directions
With a peeler remove the skin from the peaches.
Cut 1/4 inch slice off the sides of each peach. This will keep the peach from rolling around on the grill. Now cut the peaches in half lengthwise.
Twist sides apart and remove the pit.
Make the marinade. In a large bowl whisk together the light brown sugar, sugar, ginger, cinnamon, water and lemon juice.
Place the peaches face down into the marinade. Cover with plastic wrap and refrigerate for 2 - 4 hours.
Pre-heat grill to 350 degrees/moderate heat.
Place the prepared peaches face down directly on the grill. Cook for 2 minutes. With a fork lift the peaches a quarter turn creating nice even marks.
Continue to cook for 2 minutes.
Flip the peach over cook for 2 minutes. Turn again a quarter turn to complete grill marks and cooking time. The peaches will be tender. Test with a toothpick, if still firm leave on grill for 1 - 2 additional minutes.
At this point the peaches can be placed on the upper level of the grill to keep warm.
Place 1 cup of raspberries in the center of the platter. With the back of a fork, press down on the raspberries working into a rough mash.
Place the grilled peaches face up on the raspberry mash.
Garnish around the outer perimeter of the platter with the remaining raspberries.
Place a scoop of vanilla ice cream on each peach.
Dust with toasted almond. Serve right away!
Other Recipes That You Might Like