Elizabeth Karmel's Summer Salad of Fresh Corn, Tomato and Basil
Cheap, Easy Labor Day Dishes From Elizabeth Karmel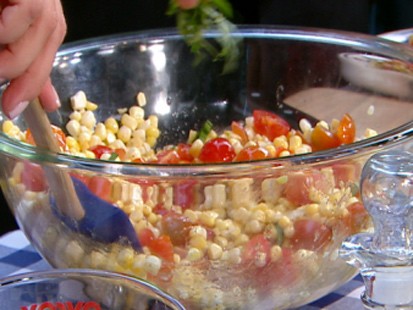 From the kitchen of Elizabeth Karmel
|
Since it's Labor Day, Elizabeth Karmel sees no need to slave away on long, complex meals for the family.
That's why she's come up with some quick, easy and delicious dishes to satisfy anyone for this summer holiday.
Ingredients
2 tablespoons sherry or red wine vinegar
1/2 teaspoon Dijon mustard
1 teaspoon sea salt
1/2 teaspoon freshly ground black pepper
1/2 cup extra-virgin olive oil
1 tablespoon minced shallots
4-5 ears sweet white corn, husked
1 1/2 cups quartered cherry tomatoes or chopped heirloom tomatoes
9 -12 large basil leaves or leaves from 3 stems of fresh basil, chiffonade
Cooking Directions
Whisk together the vinegar, mustard, salt, and pepper in a non-reactive bowl. Slowly whisk in the olive oil to make smooth vinaigrette. Add in the shallots and set aside. Alternatively, you can make this by putting all ingredients in a blender.
Cut the corn kernels off the cobs and add to the vinaigrette. Toss with the tomatoes. Can be made up to 4 hours in advance and refrigerated covered. Just before serving, cut the basil and fold it into the salad. Serve immediately.
© 2009 Elizabeth A. Karmel, executive chef of Hill Country, www.hillcountryny.com
Other Recipes That You Might Like