Elizabeth Karmel's Sweet Cream Biscuits With Drunken Summer Fruit
Cheap, Easy Labor Day Dishes From Elizabeth Karmel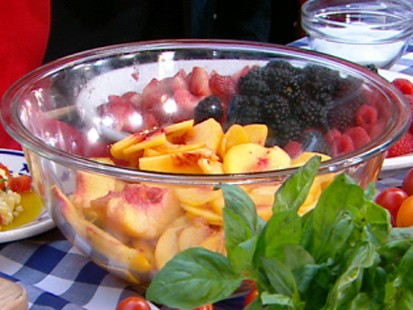 From the kitchen of Elizabeth Karmel
|
Since it's Labor Day, Elizabeth Karmel sees no need to slave away on long, complex meals for the family.
That's why she's come up with some quick, easy and delicious dishes to satisfy anyone for this summer holiday.
Ingredients
4 ripe fresh peaches, peeled and sliced
1 pint fresh blackberries
1/2 pint fresh raspberries
1 pint fresh strawberries, cleaned and quartered
Juice of 1 lemon, about 2 Tablespoons
Zest of 1/2 lemon using a microplane
¼-1/2 cup sugar, depending on the ripeness of the fruit
Pinch of salt
½ cup Grand Marnier
For the Biscuits:
2 cups all-purpose flour
3 tablespoons white sugar, plus more for topping
½ teaspoon sea salt
2 teaspoons baking powder
1 ½ cups whipping cream, plus more for brushing tops
2 tablespoons minced crystallized ginger
Grand Marnier Whipped Cream:
2 cups heavy whipping cream
1 tablespoon Grand Marnier
Pinch of fine-grain sea salt
1-2 Tablespoons super-fine sugar, depending on taste
Dark Chocolate Shavings
Cooking Directions
In a large bowl, combine fruit and toss gently. In a smaller bowl, mix lemon juice, lemon zest, sugar, salt and Grand Marnier until sugar dissolves. Pour over fruit and mix gently. Cover and refrigerate. Let macerate for a minimum of 15 minutes and up to 2 hours.
Meanwhile make cream biscuit dough: Preheat oven to 400 F. Combine all of the dry ingredients in a bowl and whisk until completely incorporated. Stir with a fork until well mixed. Add about 1 cup of the cream and stir with the fork until the dough comes together. If the dough is still very dry, add the rest of the cream. If it is forming into a ball, add half the remaining cream (¼ cup) and stir with fork – you don't want the dough to be too wet. Add the crystallized ginger. When the dough forms a ball, turn it out onto a floured surface and knead once or twice or until smooth.
Roll out with a rolling pin until the dough is ¾ thick. Cut with a floured biscuit cutter and place on an ungreased cookie sheet.
Brush the tops with the reserved cream and sprinkle with a generous coating of sugar. Bake biscuits for 10- 15 minutes or until tops are golden brown. Let cool.
Just before serving, whip the cream, adding the Grand Marnier, 1 Tablespoon sugar and a pinch of salt. Whip until stiff and use immediately. If you like things a little sweeter, you can add more super-fine sugar to the cream as you whip it.
To serve: Split biscuits open and ladle fruit and the macerated juices over the biscuits. Top with a dollop of whipped cream and garnish with dark chocolate shavings.
© 2009 Elizabeth A. Karmel, executive chef of Hill Country, www.hillcountryny.com
Other Recipes That You Might Like