Emmitt Smith's Texas BBQ Pork Tortilla Wrap
Emmitt Smith Grills Up Some Barbecue Delights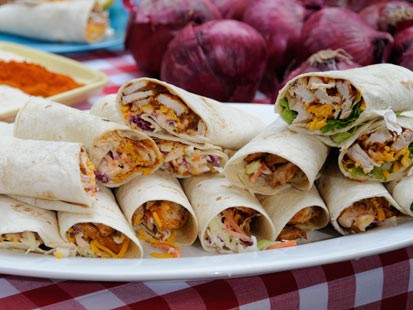 From the kitchen of Emmitt Smith
|
Former NFL superstar Emmitt Smith dropped by "Good Morning America" to share some of his best bar-b-q dishes.
"I have not beeen so bad in the kitchen. Grilling is my thing now," Emmitt said.
So fire up the grill before summer ends and let Emmitt take your taste buds into the endzone.
Click here to learn more about Emmitt's Great Pork Recipe Playoff.
Ingredients
4 6-ounce natural boneless pork loin chops, non-marinated, 3/4-inch thick
Salt and pepper, to taste
1 cup barbecue sauce
1/2 cup beer
1-2 canned chipotle chiles, finely chopped
8 flour tortillas
1/2 cup shredded Cheddar cheese, if desired
Deli cole slaw or lettuce leaves, if desired
Cooking Directions
Combine barbecue sauce, beer and chiles in a small saucepan. Bring to a boil over medium-high heat. Reduce heat to low and simmer 5-7 minutes or until slightly thickened. Remove from heat and set aside 1/4 cup for pork chops.
Prepare a medium-hot fire in grill. Sprinkle both sides of chops with salt and pepper. Grill chops, uncovered, over direct heat for 3-4 minutes until nicely browned on one side; turn and brush liberally with sauce. Grill 3-4 minutes until second side is browned. Turn and brush with sauce. Grill a few minutes more, brushing with sauce, until the internal temperature reaches 155 degree F. Transfer chops to cutting board. Loosely cover with foil; let rest for 5-10 minutes.
Meanwhile, reheat remaining sauce and warm tortillas. Thinly slice pork and serve with sauce and warm tortillas. Place pork slices in warm tortilla and sprinkle with cheese. Serve with sauce and deli cole slaw or lettuce leaves.
Top the warm slices of pork with extra sauce and fold inside a tortilla. The pork chops and sauce can be prepared ahead. Slice and reheat pork chops in the barbecue sauce before serving. Serve with deli cole slaw or lettuce leaves on the side or place some over the pork in the tortilla.
Other Recipes That You Might Like