Deen Bros' Ten Minute Blackberry Cream Pie
The Deen Bros Have the Right Foods for Your Sweet Tooth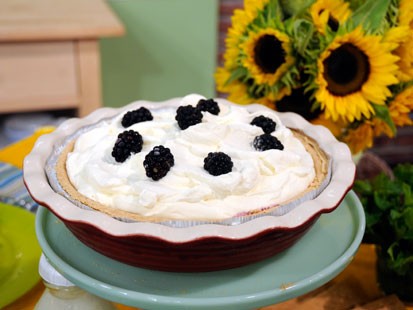 From the kitchen of Deen Bros
|
This is an easy-to-assemble pie that really takes us back to our childhoods.
Blackberries grow wild all over Georgia, and coming from a family of great pie bakers, we were always motivated to pick them.
Recipe and introduction from The Deen Bros. Take it Easy; Ballantine Books 2009.
Ingredients
1 10 oz. package fresh or frozen blackberries (thawed if frozen)
3 tbps blackberry jam
1 8 oz. tub of Cool Whip whipped topping (or fresh whipped cream, if desired)
1 9 in. store-bought graham cracker piecrust
Cooking Directions
Place the blackberries in a bowl and mash with a fork until broken up. Add the jam and mix until combined.
Spoon the blackberry mixture into the crust. Top with Cool Whip and serve.
Other Recipes That You Might Like