Deen Bros' Roasted Sweet Potato Wedges
The Deen Bros Have the Right Foods for Your Sweet Tooth and Healthy Life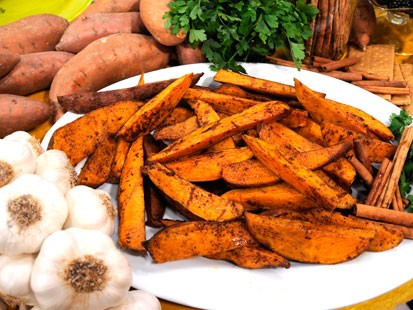 From the kitchen of Deen Bros
|
Time to turn on the oven and prepare for deliciousness -- the Deen Brothers are in the house with "Good Morning America."
The dynamic duo dropped by the show to share some of their favorite sweet tooth dishes.
Recipe from The Deen Bros. Take it Easy; Ballantine Books 2009.
Ingredients
10 tablespoons unsalted butter
1 1/2 teaspoons ground cinnamon
4 sweet potatoes, scrubbed and cut lengthwise into wedges
2 teaspoons salt
2 teaspoons freshly ground black pepper
Cooking Directions
Preheat the oven to 400°F.
Melt the butter in a large sauce pan over medium-high heat. Remove the pan from the heat and stir in the cinnamon. Add the potato wedges and toss to combine. Season with the salt and pepper.
Spread the potatoes in an even layer on a baking sheet. Roast the potatoes, stirring occasionally, for 20 to 25 minutes, or until tender. Serve hot.
Other Recipes That You Might Like