'Hungry Girl' Lisa Lillien's Amazing Ate-Layer Dip
From the Book 'Hungry Girl Chew the Right Thing'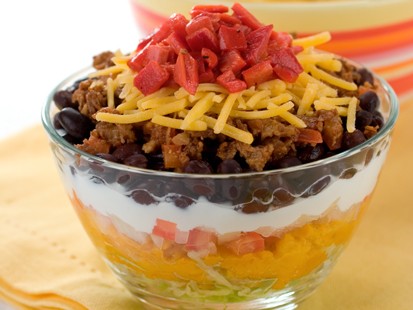 From the kitchen of Lisa Lillien
|
Being a skinny girl doesn't mean you have to be a hungry girl. Get a taste of how delicious low cal can be by trying out her Amazing Ate-Layer Dip recipe below.
Ingredients
4 cups shredded iceberg lettuce
2 1/2 cups peeled and cubed butternut squash
2 cups cherry tomatoes, chopped
1 cup diced onions
1 cup canned black beans, heated (if desired)
4 ounces ground-beef-style soy crumbles, thawed if previously frozen
4 ounces roasted red peppers (not packed in oil), chopped
1/2 cup fat-free sour cream
1/4 cup shredded fat-free cheddar cheese
3 1/2 teaspoons dry taco seasoning mix
Optional: salt, black pepper, lime juice
Cooking Directions
Combine half the tomatoes with all the onions. Season to taste with optional ingredients, if desired. Set aside.
Nuke squash in a covered microwave-safe dish with 2 tablespoons of water for 6 to 7 minutes, until squash is tender enough to mash.
Using a fork or potato masher, mash squash to a pulp. Mix in 11/2 teaspoons taco seasoning and set aside.
Combine soy crumbles, remaining tomatoes, and 2 teaspoons taco seasoning in a heated pan sprayed with nonstick spray. Cook over a medium flame, stirring occasionally, until heated and mixed.
In a large dish, layer ingredients in this order: lettuce, butternut squash mixture, tomato/onion mix, sour cream, black beans, "meat" mixture, shredded cheese, red peppers. Devour!
From "Hungry Girl Chew the Right Thing" by Lisa Lillien. Copyright © 2009 by the author and reprinted by permission of St. Martin's Griffin.
7-Layer Dip, Average
avg. 1 cup = 400 calories and 30g fat
Amazing Ate-Layer Dip
1 cup = 100 calories and 1g fat
Other Recipes That You Might Like