Emeril's Shrimp and Green Onion Dip
A Super Bowl Must-Have Recipe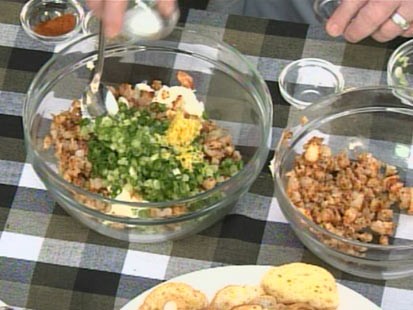 From the kitchen of Emeril Lagasse
|
This dip is sure to impress your friends and family joining you for Super Bowl Sunday.
Recipe courtesy Emeril Lagasse, Emeril 20-40-60: Fresh Food Fast, Harper Studio Publisher, New York, 2009, courtesy MSLO, Inc.
Ingredients
1 pound medium shrimp, peeled and deveined
2 teaspoons Emeril's Original Essence or Creole Seasoning (Click HERE for Emeril's Original Essence recipe or HERE for Creole Seasoning.)
1 tablespoon olive oil
8 ounces cream cheese, at room temperature
3 tablespoons mayonnaise
1/2 cup chopped green onions, white and green parts
1/3 cup minced celery
2 teaspoons freshly squeezed lemon juice
1 teaspoon finely grated lemon zest
1/2 teaspoon salt
1/2 teaspoon freshly ground white pepper
1/4 teaspoon cayenne pepper
1/4 teaspoon Worcestershire sauce
Crackers or French bread toasts, for serving
Cooking Directions
Combine the shrimp, Essence, and olive oil in a mixing bowl.
Heat a nonstick skillet over medium-high heat. When the skillet is hot, add the seasoned shrimp and cook until lightly golden and just cooked through, 3 to 4 minutes. Transfer the shrimp to a plate or shallow bowl and place in the freezer until chilled, 5 to 10 minutes.
While the shrimp are chilling, combine all the remaining ingredients (except the crackers) in a mixing bowl. Stir until smooth and creamy.
When the shrimp have chilled, remove them from the freezer and coarsely chop them. Add them to the cream cheese mixture and stir well to combine. Taste, and adjust the seasoning if necessary. Serve as is or chilled, with your favorite crackers.
Other Recipes That You Might Like