Emeril's Crab Dip
Impress Your Friends With This Simple Recipe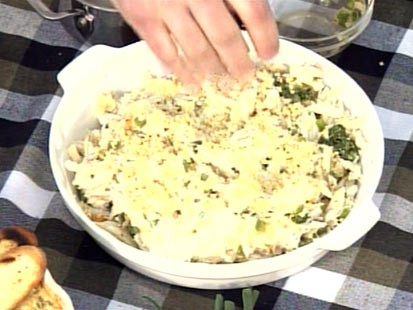 From the kitchen of Emeril Lagasse
|
A simple dip that will get rave reviews at your next party.
Recipe courtesy Emeril Lagasse, Emeril's Potluck, William Morrow Publisher, New York, 2004, courtesy MSLO, Inc.
Ingredients
1 tablespoon olive oil
1 cup chopped onions
1 cup chopped green bell peppers
1 tablespoon minced garlic
2 teaspoons salt
1 tablespoon plus 1 teaspoon Emeril's Original Essence (Click HERE for Emeril's Original Essence seasoning.)
1 pound cream cheese, at room temperature
1 cup mayonnaise
¼ cup chopped fresh parsley
1 tablespoon minced green onions
1 tablespoon fresh lemon juice
1 pound lump crabmeat, picked over for shells and cartilage
½ cup cracker crumbs, saltine or butter crackers
2 tablespoons unsalted butter, melted
Cooking Directions
Heat the oil in a large skillet over medium heat. Add the onions, bell peppers, garlic, 1 teaspoon salt, and 1 teaspoon Essence. Cook, stirring, until the vegetables are soft, 2 to 3 minutes. Remove from the heat and set aside.
Combine the cream cheese, mayonnaise, parsley, green onions, lemon juice, the remaining teaspoon salt, and remaining tablespoon Essence in a food processor. Process until smooth. Transfer the mixture to a mixing bowl and fold in the vegetables and crabmeat.
Transfer the mixture to a 2-quart casserole. Combine the breadcrumbs with the melted butter and stir to blend. Spread the mixture over the crabmeat mixture and bake until hot and bubbly, about 30 minutes.
Serve warm or chilled with toast points, croutons or assorted party crackers.
Other Recipes That You Might Like