Kicked Up Spinach and Artichoke Dip
A Perfect Dip for Entertaining Friends and Family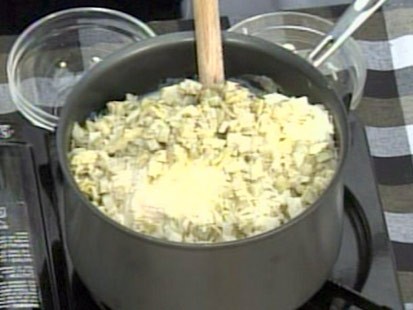 From the kitchen of Emeril Lagasse
|
Try this delicious, creamy dip at your next party.
Recipe courtesy Emeril Lagasse, Emeril's Potluck, William Morrow Publisher, New York, 2004, courtesy MSLO, Inc.
Ingredients
Two 10-ounce packages fresh spinach, well rinsed and stems trimmed
4 tablespoons unsalted butter
1 cup finely chopped onions
1 tablespoon minced garlic
1 teaspoon salt
½ teaspoon ground black pepper
¼ teaspoon cayenne
¼ cup all-purpose flour
1 cup milk
1 cup heavy cream
2 teaspoons fresh lemon juice
1 cup ½-inch cubes Brie cheese
1 cup grated Monterey Jack cheese, rinds cut off
One 6 ½-ounce jar marinated artichoke hearts, drained and chopped
4 strips bacon, fried crisp, drained and chopped
¼ cup grated Parmesan cheese
Assorted chips for dipping (pita chips, tortilla chips, bagel chips)
Cooking Directions
Preheat the oven to 350° F. Lightly grease a 9-inch round chafing dish and set aside.
Bring a medium pot of water to a boil. Add the spinach in batches and cook until wilted, 2 to 3 minutes. Remove and refresh under cold running water. Squeeze to remove all excess water and chop. Set aside.
Melt the butter in a medium pot over medium-high heat. Add the onions and cook, stirring, for 3 minutes. Add the garlic, salt, pepper, and cayenne, and cook, stirring, for 1 minute. Add the flour and cook, stirring constantly, to make a light roux, about 2 minutes. Add the milk and cream in a steady stream, and cook, stirring constantly, until thick and creamy, 2 to 3 minutes. Add the cooked spinach and lemon juice, and stir to incorporate. Add the cubed and grated cheeses, artichoke hearts, and bacon, and stir well. Remove from the heat and pour into the prepared dish. Top with the Parmesan cheese and bake until bubbly, about 10 minutes.
Remove from the oven and serve hot with chips.
Other Recipes That You Might Like