Emeril's Queso Dip
A Delicious, Cheesy Dip With a Kick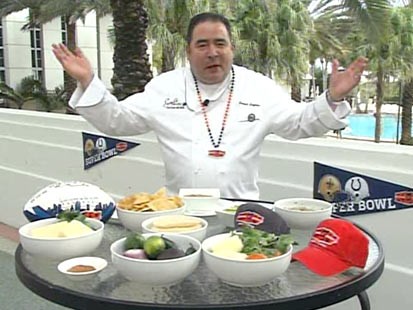 From the kitchen of Emeril Lagasse
|
An easy, cheesy, delicious dip that everyone will enjoy at your next football party.
Recipe courtesy Emeril Lagasse, courtesy MSLO, Inc.
Ingredients
2 tablespoons vegetable oil
1 cup chopped yellow onion
1 teaspoon Essence, plus more to taste (Click HERE for the Essence recipe.)
1 teaspoon Mexican chili powder
1 cup chopped seeded tomato
2 teaspoons minced garlic
8 ounces white Cheddar cheese (1/2 pound), shredded (about 2 cups)
8 ounces Monterey Jack cheese (1/2 pound), shredded (about 2 cups)
1 cup canned, chopped mild or hot green chiles
3 tablespoons sour cream
2 tablespoons chopped fresh cilantro
1 teaspoon ground white pepper
1/4 teaspoon salt
Tortilla chips, for serving
Cooking Directions
Heat the vegetable oil in a medium saucepan over medium heat until hot, about 1 minute.
Add the onion and Essence and chili powder and cook, stirring, until soft, about 5 minutes.
Stir in the tomato and garlic and cook, stirring, for another 2 minutes.
Reduce the heat to medium-low and add the cheeses and chiles. Cook, stirring constantly, until the cheese melts, about 2 minutes.
Stir in the sour cream, cilantro, white pepper, and salt. Add more Essence to taste if desired. Serve immediately with tortilla chips.
Other Recipes That You Might Like