Many American families are looking for ways to save cash. For some, that means cutting down on the grocery bills.
But as "Good Morning America" found, it might be easier than you think to keep some delicious cuts of meat and fish on your list, without breaking the bank.
Here, we present five terrific choices for your main course that won't keep you wondering how you'll pay for your next meal.
Get a taste from some recipes below, and for a full list of recipes to complement any occasion, click here.
Garlic-Roasted Pork Shoulder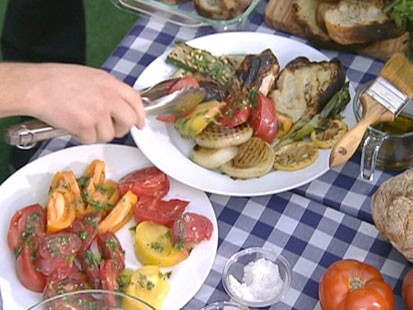 We love it when an inexpensive cut of meat is coaxed into a glorious showstopper, and this pork masterpiece is perhaps the best example we can think of. Even the sight of it is delightful, as it glazes over with a sheen in shades of rose and amber. The garlicky adobo -- that's the marinade, not the commercial powder -- is pushed into slits in the meat to penetrate to the deepest layers; the outer layer, rubbed on the roast, forms a sticky crust of irresistible caramelization; and the skin becomes a rich, crunchy chicharrón, the last pieces of which everyone will surely fight over.
Serves eight.
Ingredients:
1 head garlic, cloves peeled

2 tablespoons plus 1 teaspoon kosher salt, divided

1½ tablespoons dried oregano

2 tablespoons distilled white vinegar

2 tablespoons fresh lemon juice

1 (7- to 7½-pound) bone-in pork shoulder with skin

Accompaniment: 4 to 6 slices ciabatta bread

1. Mash garlic to a paste with 2 tablespoons kosher salt using a mortar and pestle or side of a large heavy knife, then stir in oregano, vinegar, lemon juice, and 1 tablespoon pepper.
2. Pat pork dry. Using a small sharp knife, cut a wide pocket at large end of roast to separate skin from fat, leaving skin attached at sides and stopping before roast narrows to bone.
3. Make 1-inch-deep slits in pork under skin and on all meaty sides, twisting knife slightly to widen openings, then push some of garlic mixture into slits with your fingers. Rub any remaining garlic mixture over roast (not skin). Wipe skin clean, then rub with remaining teaspoon kosher salt (to help it crisp).
4. Transfer pork to a glass or ceramic shallow dish and marinate, covered and chilled, at least 8 hours.
5. Put pork, skin side up, in a flameproof roasting pan, discarding marinade, and bring to room temperature, about 1 hour. Meanwhile, preheat oven to 350°F with rack in middle.
6. Cover pork with parchment paper and then tightly with foil and roast 2 1/2 hours. Discard foil and parchment, then add 1/2 cup water to pan and roast, uncovered, adding more water when liquid in pan evaporates (check about every half hour), until skin is browned and crisp and meat is fork-tender, 2 to 2 1/2 hours more. Transfer to a cutting board or platter, reserving juices in pan, and let stand 30 minutes. Meanwhile, pour pan juices through a sieve into a fat separator or bowl and discard fat. Add 3/4 cup water to roasting pan and deglaze by boiling over medium-high heat (straddle 2 burners if necessary), scraping up brown bits, 1 minute, then add to pan juices along with enough water to bring total to 1 1/2 cups.
7. Cut skin off roast pork. (If skin is not crisp, roast in a shallow baking pan in a 475°F oven until crisp, about 10 minutes.) Cut skin into serving pieces. Pull meat from roast in pieces using a fork. Serve meat with pan juices and pork skin.
Cooks' note: Pork can be marinated up to 3 days.
Recipe courtesy of Maggie Ruggiero, Gourmet, 2007.
Balsamic Chicken
The balsamic vinegar in this recipe -- and you can use the regular old affordable supermarket variety -- provides a sweet and sour base and great depth of flavor to this very quick sauce. This sauce would go nicely on sauteed pork chops or a flavorful fish such as salmon or bluefish as well. Serve with smashed potatoes and sauteed spinach with garlic.
Makes 4 servings
Ingredients:
1½ pounds chicken thighs with skin in and bone in

Kosher salt and freshly milled black pepper

2 tablespoons extra virgin olive oil

1 medium onion, chopped (about 1 cup )

1 garlic clove, minced (about 1 teaspoon)

4 plum tomatoes, (about 1 pound) chopped or one 14½ ounce can diced tomatoes with the liquid

¼ cup balsamic vinegar

1 cup canned chicken broth or Chicken Stock

2 tablespoons unsalted butter

1. Season the chicken with ½ teaspoon salt and ¼ teaspoon pepper. Heat the oil in a large skillet over high heat until hot; reduce the heat to medium-high and add the chicken breasts, skin side down. Saute for 6 minutes or until the skin is nicely browned. Turn the chicken over and saute for 12 to 14 minutes, or until the chicken is just cooked through. Transfer with tongs or a slotted spoon to a plate and cover loosely with aluminum foil.
2. Reduce the heat to medium; add the onion to the skillet and cook, stirring occasionally, until softened, about 5 minutes. Add the garlic and cook 1 minute. Add the tomatoes and cook until softened slightly, about 3 minutes.
3. Add the vinegar and broth and simmer for 5 minutes. Add any juices from the chicken plate to the pan and the butter and heat just until the butter is melted. Transfer the chicken, skin side up, to each of 4 plates and top each serving with some of the sauce.
Recipe courtesy of Sara Moulton, "Sara's Secrets for Weeknight Meals"
Sesame Steak
Ingredients:
3 tbs soy sauce

K2 scallions (white and green parts), thinly sliced (about ¼ cup)

2 tbs rice vinegar

1 tbs dark brown sugar

2 tsps finely grated ginger

1½ tsps toasted sesame oil

1 garlic clove, minced (about 1 tsp)

1 pound chuck steak

kosher salt and freshly milled black pepper

4 tbs vegetable oil

4 cups thinly shredded napa cabbage (about 1 pound)

¼ pound snow peas, halved diagonally

1 tsp red pepper flakes

1. Whisk together the soy sauce, scallions, vinegar, brown sugar, ginger, sesame oil and garlic and set aside. Season the steak with salt and pepper on both sides. Cut into pieces, if necessary, in order to fit it all into the skillet.
2. Heat 2 tbs of the oil in a large skillet over high heat until hot; add the meat. Sear the steak on both sides, 4 to 6 minutes total for medium-rare (which I, personally, prefer).
3. Transfer the meat to a platter, cover loosely with foil, then let rest while you cook the cabbage. Discard the fat in the skillet; heat the remaining 2 tbs oil in the same skillet over high heat until hot. Reduce the heat to medium and add the cabbage and snow peas. Saute for 3 minutes or until the cabbage is crisp-tender. Add the snow peas, red pepper flakes and salt to taste; saute just until peas are hot, about 30 seconds.
4. To serve, slice the steak thin, against the grain, at an angle. Add any juices from the platter to the soy sauce mixture and toss the meat with the sauce in the bowl. Arrange a mound of cabbage on four plates; top with the meat and the sauce.
Recipe courtesy of Sara Moulton, "Sara's Secrets for Weeknight Meals"
Cracker Fish
Ingredients:
4-5 tbsp. olive oil

2 garlic cloves (about ¼ cup)

1½ tsp. fresh or dried oregano

1 tsp. grated lemon zest

1 c. saltine crumbs (from 24 saltines), made by pulsing in a food processor or crushing in a zippered plastic bag

4 6-oz. pieces tilapia fillet

lemon wedges

1. Combine 2 tablespoons of the oil and the garlic, oregano and lemon zest in a rimmed dinner plate. Spread the saltine crumbs on wax paper. Dip each fillet in the oil mixture and then coat with crumbs.
2. Heat 1 tablespoon oil in a large skillet over high heat until hot. Reduce the heat to medium-high, add the fish and saute until well browned, about 2 to 3 minutes. Add more oil to the pan, if necessary, turn the fish, and saute until cooked through and brown on the remaining side, 3 to 4 minutes. Serve with lemon wedges.
Recipe courtesy of Sara Moulton, "Sara's Secrets for Weeknight Meals"
Salmon Casserole
Here is a delicious and inexpensive way to use canned wild salmon. This recipe is easy and an excellent way to expand your comfort food repertoire . Pair this with a mixed green salad and you will have a nutritious meal on the table in little time.
Makes 6-8 servings
Ingredients:
1 tbs. unsalted butter

1 1½ cups onion, medium dice

1½ cup celery, medium dice

1 tsp. dried thyme

1 ¼ tsp. salt

¼ tsp. ground white pepper

3 tbs. flour

3 cups whole milk

1/2 cup sour cream

2 cups frozen peas

2 14.75 ounce cans wild Alaska sockeye salmon

1 lb. cooked broad egg noodled, cooked al dente

1 tbs. olive oil

¾ cup dried white breadcrumbs

1. Preheat broiler.
2. Butter a 9x13 inch glass baking dish.
3. . In a 2 quart sauce pot add the butter and melt over medium high heat. Add the onion, celery, the thyme, salt, and pepper to the pot. Stir with a wooden spoon and cook 2-3 minutes until the vegetables are softened . Add the flour and stir until flour has coated the vegetables, cook for about one minute, stirring often. Slowly whisk in the milk and raise the heat to high. Stir the mixture constantly. When the mixture comes to a boil and begins to thicken, reduce the heat to medium. Simmer the mixture for about 3 minutes, stirring constantly. Then stir in the sour cream and the peas and set aside. Cook the egg noodles according to the package instructions. Place the opened cans of salmon in a large bowl. Remove and discard the skin, bones and cartilage and chunk the salmon and reserve. Toss the breadcrumbs with the olive oil to combine thoroughly.
4. Place the noodles in the buttered casserole dish and distribute the salmon evenly throughout the dish. Gently pour the sauce mixture around the ingredients and toss gently to combine. Sprinkle the breadcrumbs over the entire casserole.
5. Place in a broiler until golden brown and bubbly.
Recipe courtesy of Karen Pickus, Chef on "Good Morning America," 2008