Mary Senger's Good Sugar Cookies
A Recipe From the Best Block in America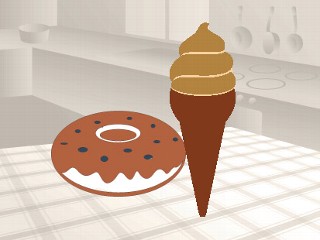 From the kitchen of Mary Senger
|
Ingredients
1 cup shortening (Crisco)
1 tsp. baking powder
3 eggs
1/2 tsp. salt
2 cups white sugar
3 1/2 cups all purpose flour
1 cup sour cream
2 tsp. vanilla
1/2 tsp. baking soda
Cooking Directions
Mix as you would any cookie dough. Put into container and freeze the dough. After the dough is frozen and when ready to bake, remove the dough from the freezer. DO NOT THAW!! Dip out a small amount of the frozen dough (using a teaspoon), drop the dough into a dish of white sugar to coat, then transfer to a cookie sheet. Bake at 350 about 10 min.
Bake as many as you like at a time and then put the remaining dough back into the freezer for use on another day.
Note: The dough will be quite sticky if thawed, thus the reason for keeping it frozen.
Variation: If you wish to make chocolate and vanilla sugar cookies, before freezing divide the dough in half and add 1 square of unsweetened chocolate to one half of the dough and mix. Place the dough into separate containers with tight lids. Freeze both the chocolate dough and the vanilla dough and when ready to use, bake as above.
Other Recipes That You Might Like