Swimming, always a prime summer activity, can come with potential dangers, and both recreational and professional divers face serious injuries, according to the first national study on diving.
Between 1990 and 2006, 111,000 Americans 19 and younger experienced diving-related injuries that required emergency department visits, according to a study by the Center for Injury Research and Policy of the Research Institute at Nationwide Children's Hospital.
"The most common types of injuries were lacerations and soft tissue injuries and sprains and strains, followed by fractures," said Lara McKenzie, of Nationwide Children's Hospital.
Collision with the diving board or platform was the leading cause of the wounds, which is a scenario familiar to diver Chelsea Davis.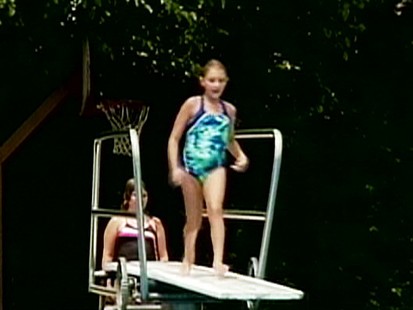 "I was injured back in 2005. I was at World Championships in Montreal, and I was doing an inward where you're standing backward on the board and flipping forward, and I hit the board right on the bridge of my nose," Davis said.
Her nose broke in 10 different places and she also suffered a fractured cheek bone and sprained neck.
"Even though it's a lot of fun to go out on the diving board and try new things," Davis said, "there's definitely an aspect of danger in it, and you have to be really careful."
Diving Safety
The study found children between the ages of 10 and 14 had the most diving injuries, but 10- to 19-year-olds had the most risk for damages to extremities.
Recommended strategies for preventing diving-related injuries included educating divers about jumping into shallow water from the pool's edge.
The CIRP also suggested placing visible depth indicators around pools and constructing soft pool bottoms. The presence of a lifeguard and removing obstacles from lakes, rivers and oceans could also help decrease the chance of injury, according to the CIRP.