Black and White Chocolate Fondue
Rocco DiSpirito's Holiday Treats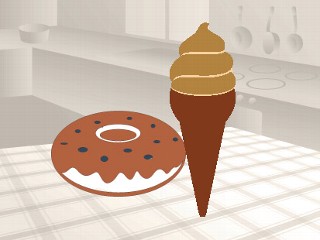 From the kitchen of Rocco DiSpirito
|
Rocco DiSpirito's Black and White Chocolate Fondue is an easy way to serve a delicious fruit-filled dessert and it only takes minutes to impress your family and friends with the luxurious chocolate dessert!
Ingredients
1/2 cup whole milk
2 teaspoons cognac
6 ounces premium semi-sweet chocolate, chopped
6 ounces premium white chocolate, chopped
pinch of salt
leftover fruitcake (or store-bought cake), cut into bite-sized pieces
18 large strawberries, with stems intact
powdered sugar, for dusting
Cooking Directions
Melt the semi-sweet chocolate with 1/4 cup of milk and 1 teaspoon cognac in one heavy-bottomed saucepan.
Melt the white chocolate with 1/4 cup of milk and 1 teaspoon of cognac in a second heavy-bottomed saucepan. (Note: if the mixture becomes too thick, add more whole milk to thin it out). Transfer the mixtures to a bowl and transfer the bowl to a platter.
Surround the bowl with the fruitcake and strawberries and dust with powdered sugar. Serve with toothpicks for dipping.
Note: This fondue is also delicious with a cut-up fruit like bananas and kiwis.
Recipe courtesy of Rocco DiSpirito © 2001
Other Recipes That You Might Like