Chocolate Fantasy Cake
Emeril's Flourless Chocolate Cake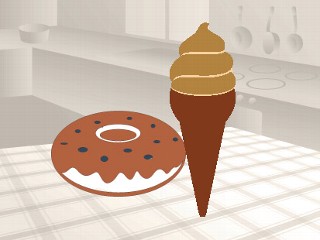 From the kitchen of Emeril Lagasse
|
Flourless cake is more rich and creamy than traditional cake.
Ingredients
8 tablespoons plus 1 tablespoon butter (1 stick), softened, unsalted
8 ounces semisweet chocolate, coarsely chopped
5 large eggs, at room temperature, separated,
3/4 cup sugar 2 teaspoons pure vanilla extract
1/2 teaspoon salt
1 1/2 cups Chocolate Ganache Icing (recipe is below)
Fresh raspberries
Whipped cream
Chocolate Ganache Icing
8 ounces semisweet chocolate, chopped
1/2 cup heavy cream
Cooking Directions
Preheat the oven to 350 degrees. Grease a 9-inch springform pan with 1 tablespoon of the butter, and dust with flour, tapping out any excess.
In a metal bowl set over a pot of simmering water, melt the chocolate with the remaining 8 tablespoons of butter and stir occasionally until smooth and creamy. Remove from heat.
You will need to separate the eggs. In another bowl, use an electric mixer to beat the egg yolks together with the sugar and vanilla until thick, stopping to scrape the sides of the bowl once or twice, for about three minutes. In a third bowl, whisk the egg whites with the salt until stiff, for about two minutes. Slowly and gently fold the chocolate into the yolk mixture, adding just a little chocolate at a time to keep the eggs from scrambling. Fold in the egg whites.
Pour the batter into the springform pan and bake in the center of the oven until spongy for about 40 minutes. Remove from the oven, remove the springform ring, and place the cake on a rack to cool completely.
When the cake is cool, prepare the chocolate ganache icing (Recipe below).
To serve, spread the chocolate ganache icing over the cake. Top with raspberries and serve a small wedge of cake with a dollop of whipped cream.
Chocolate Ganache Icing
In a metal bowl set over a pot of simmering water, melt the chocolate with the cream, stirring constantly until smooth.
Don't let the mixture boil. Remove from the heat. Use immediately or store, refrigerated, in an airtight container for up to 24 hours. Reheat in the top of a double boiler.
Other Recipes That You Might Like