Hungry Girl's Chocolate Marshmallow Madness Cupcakes
A Healthy and Delicious Dessert!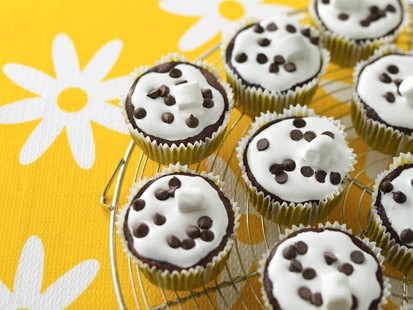 From the kitchen of Hungry Girl
|
This recipe provided courtesy of "Hungry Girl" Lisa Lillien.
Ingredients
For Cupcakes:
2 cups moist-style chocolate cake mix (1/2 of an 18.25-ounce box)
One 25-calorie packet diet hot cocoa mix
1/2 cup fat-free liquid egg substitute
1 tablespoon Splenda No Calorie Sweetener, granulated
1/8 teaspoon salt
For Glaze:
1/4 cup Jet-Puffed Marshmallow Creme
1 teaspoon light vanilla soymilk
For Topping:
1 tablespoon mini semi-sweet chocolate chips
12 mini marshmallows
Cooking Directions
Preheat oven to 350 degrees.
In a tall glass, combine cocoa mix with 1/4 cup hot water. Stir until cocoa dissolves. Add 1 cup cold water and stir well.
In a large mixing bowl, combine cake mix, Splenda, and salt. Add egg substitute and cocoa mixture, then whisk until smooth.
Line a 12-cup muffin pan with baking cups and/or spray with nonstick spray. Evenly distribute cake mixture among the cups.
Bake in the oven for about 15 minutes, until a toothpick inserted into the center of a cupcake comes out clean.
Remove from oven and let cool.
To prepare glaze, place marshmallow creme in a small dish. Add soymilk and mix well.
Once cupcakes have cooled completely, drizzle marshmallow glaze over them.
Top each cupcake with 1/4 teaspoon chocolate chips and one mini marshmallow.
Refrigerate until ready to serve.
Other Recipes That You Might Like